Passport-Free Angkor Trips Plan for Thais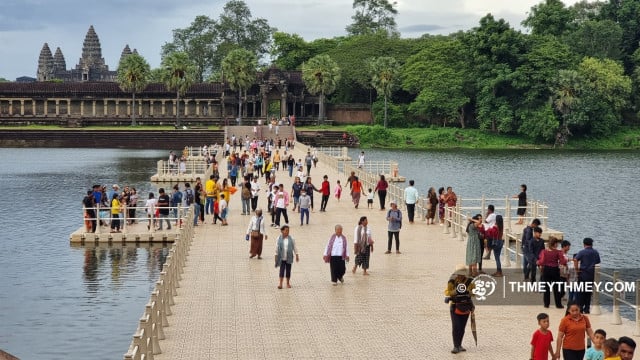 PHNOM PENH – Cambodia is thinking of letting Thai people living in border provinces visit Siem Reap using a border pass.
The proposal was made at a meeting on Sept. 19 of the Inter-Ministerial Commission tasked with facilitating travel into Cambodia at all ports of entry.
Ministry of Tourism Secretary of State Hor Sarun said the proposal would be submitted to the government for approval.
"Some Thai people want to visit Angkor Wat temple, but they do not have a passport, so if they live in a border province, they can apply for a border card and be able to visit Angkor," he said during the meeting.
Currently, Cambodia and Thailand are implementing entry and exit permits for people living on both sides of the border. Citizens holding a border pass can cross the border without a passport. They need only an ID card to apply for the pass.
Earlier this month, Cambodia and Thailand agreed on an 11-point action plan for 2023-2025 to promote cross-border tourism.
Thai provinces bordering Cambodia include Ubon Ratchathani, Sisaket, Surin, Buri Rum, Sa Kaeo, Chanthaburi, and Trat.
Over 500,000 foreign visitors visited Cambodia in the first half of 2022.
Tourism Minister Thong Khon said this was increase of nearly 400 percent compared with the same period in 2021, during which the borders were closed due to COVID-19.
However, this was still down 85 percent on the same period in 2019 before the pandemic, when 6.6 million foreign visitors arrived in the country.
Cambodia is expecting a million visitors by the end of 2022 and two million visitors in 2023, as the country hosts the 2023 Southeast Asian Games and the ASEAN Para Games, Khon said on July 12.
In 2021, 4.66 million Cambodians visited Cambodia's major destinations such as Phnom Penh, Siem Reap province, the coastal area and the northeastern provinces, which was down 35.5 percent on 2020.
Related Articles