Peace, stability indispensable foundations for prosperous ASEAN region: Cambodian defence minister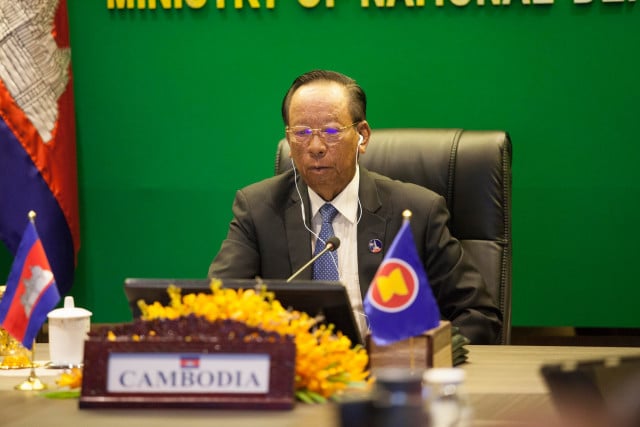 November 11, 2021 9:40 AM
PHNOM PENH--Cambodia's Defence Minister Gen. Tea Banh has said that peace and political stability are the indispensable foundations for enhancing a sustainable and prosperous ASEAN region.

He made the remarks on Wednesday during the Association of Southeast Asian Nations (ASEAN) Defence Ministers' Meeting (ADMM) Retreat 2021 via videoconference.

"Without peace and stability, countries in the region would see no development nor prosperity," Banh said.

To maintain the region's peace and stability, ASEAN needs to "enhance the tradition of multilateral cooperation with external partners, based on a robust internal unity and ASEAN centrality," he said.

Banh, who is also a deputy prime minister, said Cambodia welcomed open, inclusive, and transparent initiatives with a clear objective to promote practical cooperation, sustainable peace, and development in the region.

Banh also highlighted the important role of the army in helping fight against the COVID-19 pandemic.

"With the COVID-19 outbreak, we have seen the emerging role of armed forces in combating the pandemic," he said. "For Cambodia, the Royal Cambodian Armed Forces (RCAF) has been playing a significant role in containing the spread of the virus through a massive vaccination campaign for the Cambodian people."

Cambodia launched a COVID-19 vaccination drive in February, with China being the key vaccine supplier, and most of the vaccines used in the kingdom's immunization program are Sinovac and Sinopharm.

To date, the kingdom has administered at least one dose of COVID-19 vaccines to 14 million people, or 87.5 percent of its 16-million population, according to the Ministry of Health (MoH).

Of them, 13.17 million, or 82.3 percent, have been fully vaccinated with both required shots, and almost 2 million, or 12.5 percent, have received a third dose or booster dose, it added.

"It is clear that only with full vaccination we can create herd immunity in our society and resume economic activities and recovery," Banh said.

At the end of the retreat, Brunei handed over the rotating chairmanship of ADMM in 2022 to Cambodia.

ASEAN groups Brunei, Cambodia, Indonesia, Laos, Malaysia, Myanmar, the Philippines, Singapore, Thailand and Vietnam.
Related Articles