People Are Learning to Use the SMART Mobile App for Environmental Protection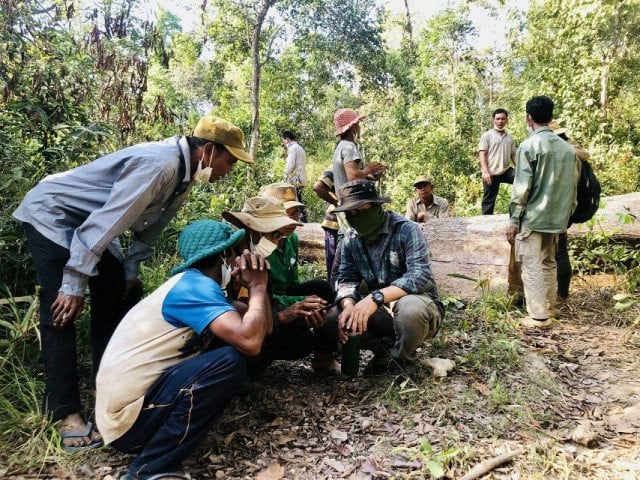 This makes monitoring and data collection easier and more precise, an environmentalist says
PHNOM PENNH--The Wildlife Conservation Society (WCS) Cambodia has been providing people in communities and conservationists with training on data collection and recording with SMART Mobile, hoping to give them confidence in the use of such techniques for the protection and conservation of natural resources in protected areas and communities.
Launched in 2014, the WCS's SMART Mobile application became fully operational in 2018. This application is designed to facilitate the work and precision of the implementation process for crime classification, allocation of natural resources, classification of wildlife species, biodiversity, plus other functions, according to WCS.
Phlong Nguon Leng, national SMART technical team leader for WCS, said that SMART Mobile is an application enabling those who work on forest protection and conservation to have the ability to define and specify the amount of work during patrols.
Using this mobile application may be easier than recording data in the traditional way that community members or conservationists previously used, he said.
"Data collection using this SMART Mobile application may be easier than it was years ago," Nguon Leng said. "With this new application, patrollers can record the crime situation clearly with confidence and can transmit data quickly."
The Mission of the SMART Mobile Training Program
Nguon Leng explained that this SMART Mobile application was developed by WCS to disseminate knowledge on the protection of the environment and biodiversity by linking technology to the community of protectors and conservationists.
With SMART Mobile, people can manage to protect and preserve their areas directly and confidently when patrolling them.
The WCS team has been working with the Cambodian government since 2014 and have worked closely with the community since 2018, Nguon Leng said, adding that his technical team has provided training for conservationists and forest protection communities in no less than 30 protected areas.
"Our SMART Mobile application was fully and officially operational in 2018," he said. "Based on observation, after finishing the SMART Mobile training program, 70 to 80 percent of the communities can use the application."
Nguon Leng explained that this mobile application has greatly facilitated the protection and conservation work during patrol as well as data entry and transfer, adding that the application is flexible and multi-functional, enabling participants to learn, understand and use technology skills.
Challenges of the SMART Mobile Training
As Phlong Nguon Leng explained, although his technical team at the Wildlife Conservation Society (WCS) Cambodia is working hard, there are still some challenges such as illiteracy, technological illiteracy, and a lack of local teachers or training professionals.
"When we go to the training base, what is still a barrier is that some people are illiterate, and so, it is really difficult to train," he said. "On the other hand, this application is new for most participants. In particular, all processes must be entirely used on mobile phones, so they are required to practice and remember all the functions. Now, the training team is lacking [resources], which is what we are concerned about, but we will find additional resources."
WCS's expectations for training
As Phlong Nguon Leng explained, WCS hopes that the trainees will be able to use this technology with confidence for the protection of natural resources in protected areas and sustainable communities. This technology could be part of efforts to conserve forests and biodiversity, he said.
"If we want people to help us, we must know how to help ourselves first," Nguon Leng said. "Learn and practice, strive to protect and care. Everyone is willing to learn to use this new application, even if they are unfamiliar with it. Moreover, we must have the willingness to protect and conserve natural resources as those resources can survive only with the participation of everyone."
Related Articles