Pepper Farmers Quit as Prices Tumble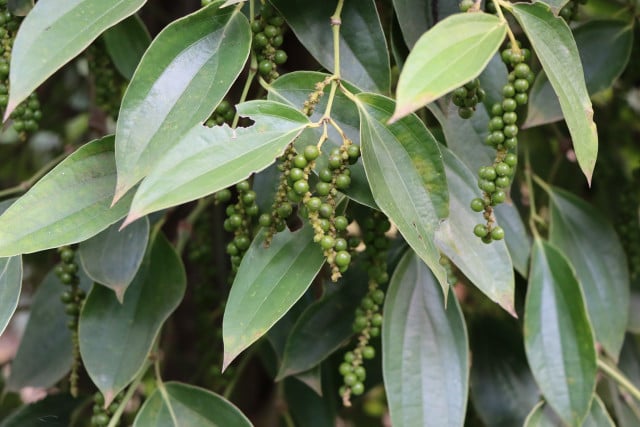 PHNOM PENH – Some pepper farmers in Tboung Khmum province are giving up cultivation as the market price plummets and they are discouraged from taking care of their plantations, the provincial Agriculture Department says.
Department director Heng Piseth said farmers at one point could earn more than 20,000 riels ($5) per kilogram. However, one farmer said he now gets only 13,000 riels ($3.20).
Vun Savoeurn has nearly 20,000 pepper pillar trees in Preaek Puoy village. He said there will always be the sight of many pepper pillar trees in houses and farms in the community but some had gone after farmers stopped cultivation because the price had fallen and costs had gone up.
He said those who gave up were mostly new farmers who only grew 300 to 400 pepper pillar trees around their yard or unused land.
"Most of them couldn't cover the costs of labor and fertilizers. Others are on verge of giving up while the income doesn't cover the expenses," he said.
"Those who have been doing this farming for a long time with thousands of pillar trees do not want to give up yet. They are patient to work through this problem.
"Actually, the price was good in early 2022. However, the price kept decreasing not long after that. The price has been low and the overall income was more affected than last year," he said.
He said those who took good care of their plantation did not lose much, though heavy rain and storms had ruined pepper pillar trees.
Despite the problem, Savoeurn would not want to give up like others because he had been growing peppers for more than 20 years.
"I wouldn't want to give up farming because of this temporary problem. No matter what, I still have to take care of the pepper pillar trees."
Theng Savoeun, president of the Coalition of Cambodia Farmers Community, said the local authority should help and support farmers even if they lacked motivation and ability to take care of their own plantations.
"The decrease in prices affects the farmers' livelihood, especially those who have to repay a bank loan.
"I think there might be a problem for domestic supply of peppers if the farmers' problems can't be solved or helped by local authorities or experts and if more farmers are willing to give up, which would lead to Cambodia importing from other countries instead," he added.
Piseth said that farmers who take care of their plantations well are still growing and can manage their costs.
Related Articles