Phare Ponleu Selpak Try for World Record with Longest Circus Show Ever Held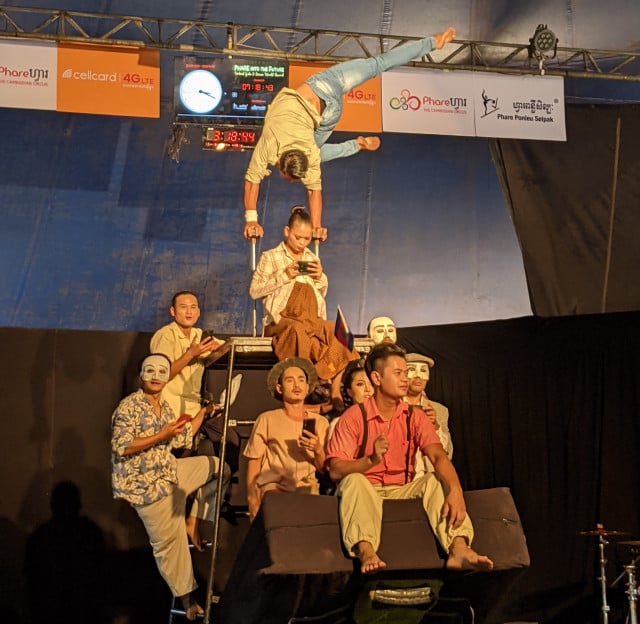 Michelle Vachon
March 9, 2021 12:38 PM
All its circus artists—professionals and students—took part in the 24-hour performance which was livestreamed online and the data will been submitted to the Guinness World Records.
PHNOM PENH--The NGO Phare Ponleu Selpak in Battambang City are preparing all evidence required for the Guinness World Records to prove that its artists have performed the longest circus performance ever staged in the world on March 7 and 8.
According to Morgan Darrasse, media and marketing coordinator for the NGO, the non-stop show held under Phare's big top lasted 24 hours, 10 minutes and 30 seconds. Phare, she said, was the first organization to ever compete for this record.
"For us, it was a way to perform on the world stage and a way to show Cambodian culture to the world," she said.
The performance, which involved around 90 artists, started at 8 a.m. on March 7 and ended shortly after 8 a.m. on March 8. Then all the information required by Guinness will be submitted, Darrasse said. "The requirements…it's very technical, very strict, very demanding."
Staging this performance was quite a challenge, she said. All Phare circus teachers, students and artists in Battambang City as well as artists from the professional circus company Phare the Circus in Siem Reap City took part in the show.
And the public in Cambodia pitched in, Darrasse said. "We had a lot of support from people," she added.
The show was livestreamed via Cellcard, which was a sponsor. "We had several thousands of followers around the world," Darrasse said. The show was watched by viewers from Australia to France, Japan to Turkey, and Greece to China and the US.
In addition, a fundraising campaign was conducted in Cambodia, asking people to donate $1 to support the NGO that is in a desperate financial situation due to the COVID-19 pandemic, Darrasse said, adding that the campaign is ongoing.
Located in Anh Chanh Village on the outskirts of Battambang City, Phare has run free arts-training programs for poor Cambodians since 1994. Over the years, its circus artists have been invited to perform on several continents.
The event was held in accordance with the health authorities' COVID-19 measures, Darrasse said.
Related Articles