Phare Ponleu Selpak Wins four Stevie International Business Awards in an International Competition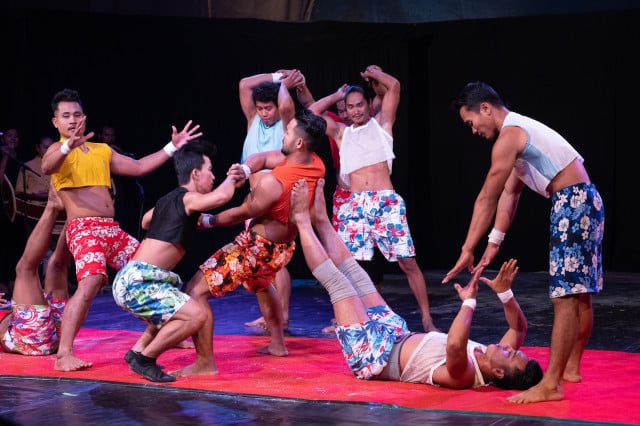 Gold awards after the pass of its co-founder
PHNOM PENH--Phare Ponleu Selpak has won four gold Stevie International Business Awards (IBAs) for its 24-hour circus event "Phare Into The Future," becoming the first Cambodian organization to win four IBA gold trophies in 19 years.
The circus show, which involved 90 circus artists trained at the NGO, was performed non-stop for 24 hours on March 7 and 8, 2021 at Phare's big top in Battambang City.
The four gold awards are Best Cultural Event 2021, Best Event For A Cause 2021, Best Communications Campaign For A Non-Profit 2021, and Best Fundraising Event 2021.
As many as 500,000 people around the world watched the live stream, and more than $130,000 was raised for Phare's education and art programs through the event, Phare reported.
Holding this show was no simple task, said Khuon Det, a co-founder of Phare Ponleu Selpak. "We, as organizers, had to keep our eyes on timing, the transition of each scene, and the safety and well-being of our artists and team," he said. "I was so impressed with the commitment of everyone. We showed the world we can come back stronger."
The Phare into The Future show featured acrobatics, magic, dance, theater, clowning, music, contortion, singing, puppetry, breakdancing, live painting, unicycling, fire acts and others acts developed during the 31 major shows developed during the NGO's 20-year circus history.
According to Phare's press release, the Stevies, which are known as the Oscars of the business world, received 3,700 applicants from 63 different countries in 2021.
"All for a wonderful cause, this event was exciting and emotionally captivating," said an IBA judge. "With a small budget this was a complete success, hitting and surpassing targets."
"A 24-hour circus is incredible," said another judge as mentioned in the press release. "What a fantastic way to combine fitness, art and youth, while commemorating their culture and giving Cambodia increased global visibility! Keep up the outstanding work!"
Maggie Gallagher, president of Stevie Awards, said that despite the difficulties and tragedies of the ongoing Covid-19 pandemic, organizations throughout the world have continued to innovate and thrive, as seen by this year's IBA nominees.
"All of this year's Stevie Award winners are to be applauded for their persistence and their resilience," said Gallagher.
Due to the pandemic, the winners will received their awards during a virtual ceremony on Dec. 8 rather than during the ceremony that was to be held in France.
This performance of Phare was the last one held before the suspension of any performances to curb the spread of the coronavirus was announced in the country.
As Osman Khawaja, Phare executive director, pointed out, 2021 has been a year of emotional upheaval due to the escalation of the COVID-19 outbreak and the death of painter Srey Bandaul, one of the NGO's founders who passed away due to the coronavirus on Aug. 4.
"Our staff and our performers have gone through some very difficult times," Khanwaja said. "Just a few hours after the exhilaration of succeeding in performing for 24 hours, which was such an incredible achievement by our artists and the staff supporting them, we had to close performances again as the current outbreak grew more serious.
"More recently we lost our beloved founder Srey Bandaul to the pandemic. Receiving the news of these four awards in the wake of his passing is a powerful acknowledgment and recognition of the power of the arts, something he believed in and dedicated his life to."
Phare has faced financial shortage since all performances were required to closed down, making it lose 60 percent, equivalent to $600,000, of its annual operating budget.
Therefore, Phare Ponleu Selpak devised this 24-hour non-stop circus event attempting to be set in the world record of Guinness, as a creative solution to the financial downfall.
Bo Ratha, an acrobat with 18 years of circus experience who performed on the day, said during this situation, he and the Phare team had to work hard together for survival.
"We knew we had to make it," Ratha said. "One chopstick is easy to be broken, while a bundle of chopsticks is not. We were so united altogether."
On this occasion, Khuon Det, co-founder of Phare Ponleu Selpak, wanted to point out that the Khmer circus had existed since ancient times and was more popular, as seen on the wall of Khmer temples.
"We want our Cambodians to be interested and value the Cambodian circus, otherwise our circus will be lost," Det said. "It is always known that our circus was copied from foreign countries. But, in fact, Cambodia had already had a circus from the 6th to 13th century and was more famous.
"We can look for the evidence on sculptures of Bayon temple, the Terrace of the Elephants, and other temples. However, at that time, the circus was called magic. Training animals to do something is also a part of a circus, which is called human talent."
Khuon Det hoped the Covid-19 infection will slow down so that Phare can be open for tourists again. Any major art events will otherwise continue to be organized depending on circumstances, he said.
"If there is an opportunity, Phare will always continue its activities for more recognition on the international stage," he said. "We will strive to organize more major events related to arts and culture."
These four Stevie International Business (IBA) Awards came as Phare had received for this performance the Gold Stevie in 'Innovation In Events' category, the Silver Stevie in 'Innovation in Communications' category in the Asia-Pacific Stevie Awards, and the Gold Award for 'Special Event' in the Hermes Creative Awards.
Only three other Cambodian organizations have won IBA awards in its 19-year history. They were Metfone, Wing and Nagaworld. However, Phare has made history by being the first to win IBA four gold awards.
Related Articles
January 14, 2022 11:05 AM