Philippine protesters celebrate 'People Power' ousting of Marcos Sr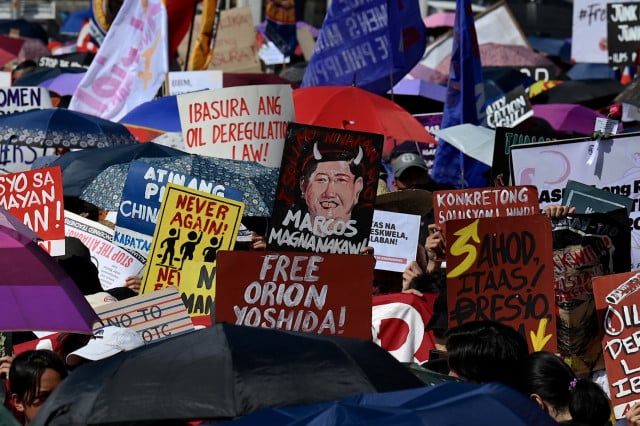 February 25, 2023 12:26 PM
Manila, Philippines -- Philippine protesters held a noisy rally Saturday for the 37th anniversary of the "People Power" revolution, which ousted President Ferdinand Marcos Jr's dictator father and sent the family into exile.
It was the first commemoration of the uprising since Marcos Jr took office in June 2022. He has praised his father's 20-year regime, which critics describe as a dark period of human rights abuses and corruption that left the country impoverished.
As leftist rock music blared over a loudspeaker, hundreds of protesters, including survivors of the elder Marcos's martial law crackdown that led to the killing, torture and imprisonment of thousands of political foes and critics, marched on the "People Power" monument in Manila in memory of the brutal era.
Some chanted "Marcos, Duterte all the same, fascist dictators", in reference to former president Rodrigo Duterte and his successor Marcos Jr, as about 200 police with shields stood by.
Veteran rights activist Sister Mary John Mananzan urged protesters to "remain vigilant" following the return of the Marcoses to power.
Nearly four decades on from the toppling of Marcos Sr, Julio Montinola, 53, told AFP the challenge was to keep the "message and spirit" of the uprising alive.
"Unfortunately, it did not resonate with the next generation," said Montinola. "The bottom line is he (Marcos Jr) was elected by the people."
Thirteen-year-old Kyle Navera said he had heard "bad things happened" to people who opposed Marcos Sr.
"It looks like he (Marcos Jr) is starting (to become like his dad). I hope he does not go down that path," Navera said, referring to the ongoing deadly drug war started by Marcos Jr's predecessor Rodrigo Duterte.
Marcos Jr sent a large wreath of white flowers to the monument, which is near the city's main thoroughfare where the bloodless uprising had been held.
In a statement, Marcos Jr recalled "those times of tribulation and how we came out of them united and stronger as a nation".
"I once again offer my hand of reconciliation to those with different political persuasions to come together as one in forging a better society," Marcos Jr said.
As an ailing Marcos Sr desperately clung to power in 1986, hundreds of thousands of protesters took to the streets of the capital for four days in a military-backed uprising against his regime.
The clan, including Marcos Jr, fled the presidential palace on February 25 on US military aircraft with bags and boxes stuffed with jewels, gold and cash.
After the patriarch's death in Hawaii in 1989, the family returned to the Philippines to rebuild their political power base and rehabilitate their name.
Their efforts culminated with Marcos Jr's victory in the May 2022 presidential election, following a massive social media misinformation campaign whitewashing the family's history.
Cristina Palabay of human rights alliance Karapatan fears the Marcos clan is still determined to cleanse their name and hold on to their "ill-gotten wealth", which is estimated to be in the billions of dollars.
© Agence France-Presse
Related Articles