Phnom Penh City Hall Suggests More Forced Evictions of Cham Communities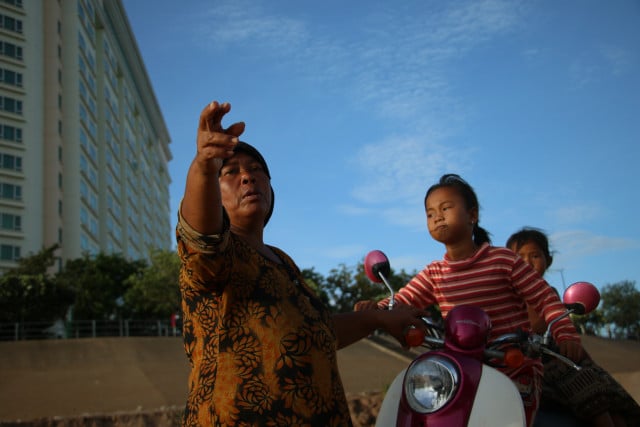 Following the forced evictions of some 1,000 families—largely ethnically Vietnamese Cambodians and Muslim Cham communities—City Hall has said more are planned, despite rising COVID-19 cases
PHNOM PENH--Following the mass evictions of floating villages in Phnom Penh, now the riparian Cham communities in Chroy Changvar District have also been told they will need to vacate their riverside homes as Phnom Penh City Hall seeks to "beautify" the city.
Yu Zimah, whose family are one of the 60 Muslim families living along the river in Chroy Changvar District, said that authorities visited on June 14 and told them to leave by June 16, but they have been given no land to replace their fishing community.
"I please call all authorities, Prime Minister Hun Sen and his wife, the King and King's Mother, please give us somewhere to go, the Cham community have nowhere to stay, I have nothing left, absolutely nothing and no land," she said.
Zimah added that her husband is sick and this has affected his mobility, so the two days' notice given by the authorities is not enough. Her family of five live on a boat moored along the Mekong River, behind the 5-star Sokha Hotel and have lived there since 1979.
While Zimah and the rest of the Cham families living in this area have depended on fishing to make their livelihoods, they've seen their catches decline year-on-year as developments along the Mekong River have severely impacted the fish population.
"My husband, because of his sickness, he cannot work well, but we have been able to earn enough to keep our children in school and nowadays, we earn just 14,000 riel [$3.50] each day, it used to be much more," she said.
"The authorities have no offered a solution, we want a solution—we want a proper place for our family to live, where my children and grandchildren can go to school, that would be enough for me," Zimah added.
Zimah noted that there was no Cambodia-Muslim Association speaking up for her community, by contrast to the Khmer-Vietnamese Association which has been vocally opposing orders issued by Phnom Penh City Hall.


On June 2, Phnom Penh Governor Khoung Sreng issued instructions for all floating house owners along the city's rivers to move out by June 9, but following interventions from the Khmer-Vietnamese Association and the Vietnamese Embassy, City Hall agreed to extend the deadline.
Today however, on June 14, City Hall went ahead with forced evictions of some 1,000 communities living on the Tonle Sap River. Many are ethnically Vietnamese or Khmer Krom and have complained of being forced from their homes amid the pandemic—many say they have nowhere else to go.
President of the Khmer-Vietnamese Association Sim Chi said that evicted Vietnamese communities have begun setting up tents on the river bank as few have rented houses.
"Many cannot return to other provinces because of border closures due to measures to prevent the spread of COVID-19," Chi noted, adding that around 50 percent of the estimated 1,000 evicted families were now living on the banks of the river, including Vietnamese, Cambodian and Muslim communities.
With more evictions on the horizon, ostensibly in the name of beautifying Phnom Penh ahead of the 2023 SEA Games which the Cambodian capital will host, questions are being asked as to why the evictions are taking place now when the country is in the grips of the worst COVID-19 outbreak to date.
Even as the Ministry of Health continues to report more people are getting vaccinated each day, the number of COVID-19 cases and deaths continue to rise, with 542 new cases identified nationwide on July 14 alone.
"I am alarmed at the global increase in forced evictions," Balakrishnan Rajagopal, the UN special rapporteur on the right to housing, said in August 2020. "The right to housing is central to any response to the pandemic, but now we are seeing an acceleration in evictions and home demolitions."
"Losing your home during this pandemic could mean losing your life," he added. "The rights to life and adequate housing are intrinsically linked."


Related Articles