Phnom Penh Gendarmerie Say They Have Confession from William Guang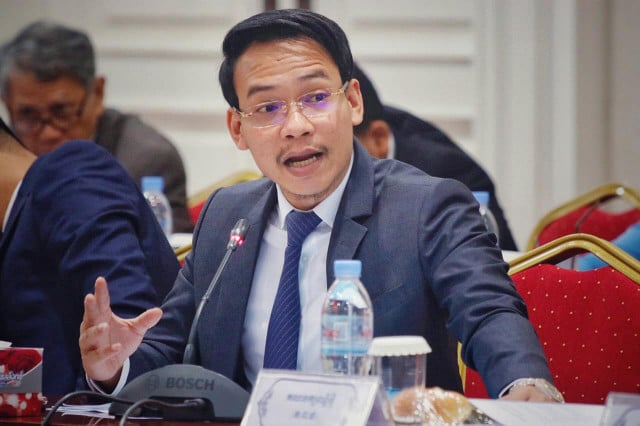 December 22, 2021 2:50 PM
The Khmer Rise Party President Sok Sovann Vathana Sabung, a.k.a. William Guang, has reportedly admitted to robbery, according to a video posted to Facebook by the Phnom Penh Gendarmerie
PHNOM PENH--According to a video posted late on Dec. 21 by the Phnom Penh Gendarmerie, Khmer Rise Party President Sok Sovann Vathana Sabung—known better as William Guang—has admitted to robbing cosmetics tycoon An Sieu Mey.
Guang, an outspoken opposition politician who has previously served on the government-led Supreme Consultative Council before being dismissed while investigating land disputes in Preah Sihanouk Province in May 2020, was arrested on Dec. 20 in a bizarre incident where Sieu Mey reported goods worth $10 million had been stolen.
Sieu Mey then downgraded her claim to three diamond necklaces, but police reported that one rifle and four pistols were recovered from Guang's house.
Phnom Penh Gendarmerie's video, which was posted to their official Facebook page, said that Guang has confessed to going to Sieu Mey's house in Phnom Penh's Por Senchey District with four other armed individuals.
Guang, the police said, admitted to carrying a pistol, a mobile phone disconnector and a backpack, but was apparently prevented from carrying out the robbery himself due to poor vision. Instead, police said, he gave the order for the other four individuals to rob the house.
It is unclear how police were able to link the crime to Guang, but 12 people—nine men and three women—have been arrested since.
Reporters' attempts to contact the Khmer Rise Party to ask how the arrest of Guang could affect the party's chances in the forthcoming 2022 commune elections were unsuccessful.
Related Articles
September 6, 2022 9:51 AM
December 3, 2021 10:42 AM