Phnom Penh-Kep Waterway Transport Project Planned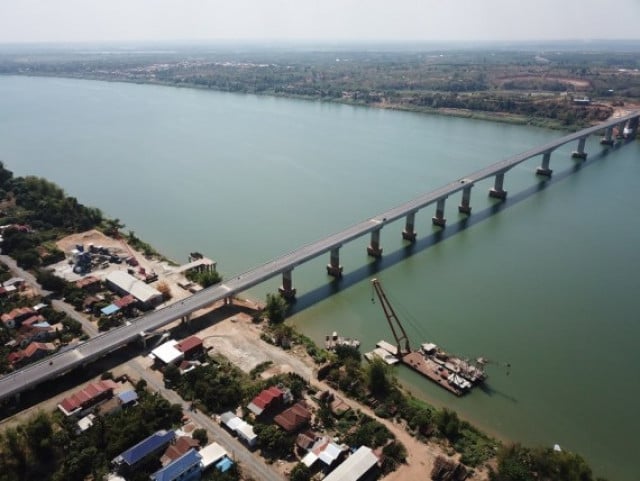 Big savings expected from bypassing Vietnam port
PHNOM PENH--Cambodia plans to build a direct waterway from Phnom Penh's Bassac river to the coastal port of Kep. This way, Cambodia can ship goods abroad without having to rely entirely on a port in Vietnam.
"We want to improve the waterways in Cambodia, as some provinces like Takeo will benefit greatly from inland transport from the Bassac river straight to the sea," said Sun Chanthol, Minister of Public Works and Transport.
Chanthol was speaking on Jan. 28 at a meeting to summarize the work of 2021 and talk about the work direction for 2022.
He said the ministry will expedite a detailed study on the impact and cost of the project, which does not affect legal aspects of the Mekong River Commission.
"We will study in detail the impact and cost of how to transport from Phnom Penh to the sea without going through the procedures that we use today in the Kaom Somnor border gate," he said.
Investors hailed the project, saying it would significantly reduce costs as economists felt it would not only partially reduce reliance on the Vietnamese port but also be a strategy to boost international trade and the Cambodian economy.
Sin Chanthy, president of the Cambodia Logistics Association, praised the project, saying the logistics and inland transport sector is in great demand. The waterway infrastructure will significantly reduce shipping costs as well as procedures at the Vietnamese docks, he added.
"Shipping by water is more profitable than transport by land," he said. "Thus, water transport is much cheaper than land transport. On the other hand, water transport does no damage to roads, has no traffic jams, no costs and road repairs, and has environmental benefits."
Royal Academy of Cambodia economics researcher Ky Sereyvath said the project was a further boost to Cambodia's international trade as the waterway infrastructure connection will become a shortcut to Cambodia's deep-sea port — Ream in Sihanoukville — and a port in the Darasakor area of Koh Kong province.
Cambodia can also reduce its reliance on the Vietnam port. Currently, the transport of goods in and out of Cambodia to third countries relies heavily on the port in Vietnam, he said.
"In the past, Cambodia relied almost entirely on Vietnamese ports for international shipments. Although not completely, we can also partially reduce the use of Vietnamese ports. It will lower the cost of transporting goods in and out of the country, which will boost economic development," Sereyvath said.
He said that before the outbreak of COVID-19, the cost of shipping through ports was $1,100 per container. The cost jumped to about $2,000 during the outbreak.
If a direct waterway from Phnom Penh to Kep emerges, shipping costs could be reduced to $700-800 per container, he said.
Related Articles