Phnom Penh – Sihanoukville Expressway no Longer Free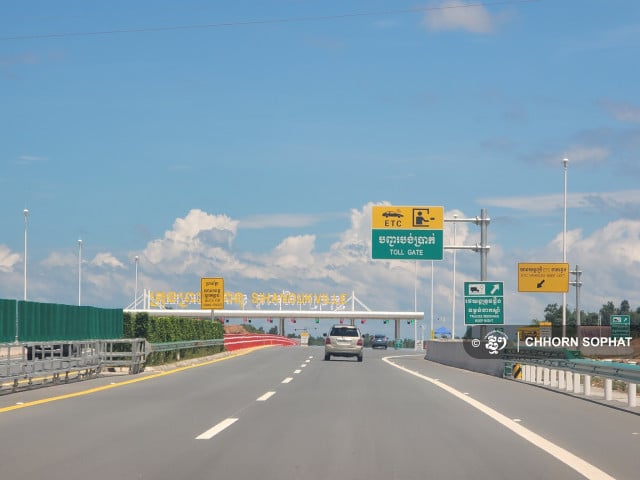 PHNOM PENH – The Phnom Penh – Sihanoukville expressway will no longer be free of charge while its first month of operation comes to an end.
Starting on Nov. 1, 2022, from 7 a.m. onward, vehicles will be charged depending on their types and the distance they travel on the expressway. There are five types of vehicles: A, B, C, D, and E.
Type A refers to motorcycles with a cylinder capacity no under 500cc, family cars with no more than seven seats, and trucks with a loading capacity lower than two tons. They will be charged $0.064 per kilometer, which represents about $12 for the entire journey along the 187-kilometer-long expressway.
Type B refers to passenger cars from eight to 19 seats or trucks that can carry cargo from two to five tons. Such vehicles will be charged $0.128 per kilometer.
Type C refers to large buses with 20 to 56 seats or trucks that can carry five to ten tons. They will have to pay $0.192 per kilometer they traveled on the road.
Type D and E refer to trucks with loading from 10 to 20 tons (type D) and above 20 tons (type E). They will respectively be charged $0.256 and $0.32 per kilometer.
With such rates, the total journey from the expressway's both extremities will cost from $12 to $60 per vehicle.
Nevertheless, Cambodian PPSHV Expressway Co Ltd, the Chinese company that operates the expressway already announced that rates will increase by 25 percent on Nov. 1, 2023, onward.
Traveling the whole way through will then cost from $15 to $75 depending on the type of vehicle.
The construction of the 187-kilometer-long and 24.5-meter-wide road started in March 2019 and finished in September 2022. The $2 billion investment came from the China Road and Bridge Corporation (CRBC), which is operating the expressway through its subsidiary Cambodian PPSHV Expressway Co Ltd.
Related Articles