Phnom Penh Under Lockdown to Curb COVID Spread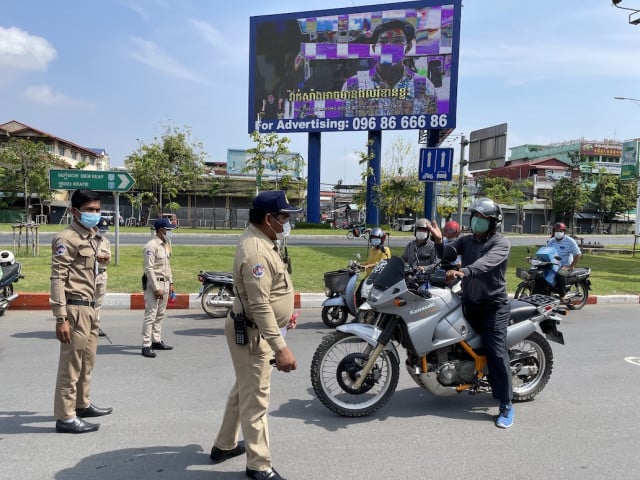 Sao Phal Niseiy
April 15, 2021 5:10 AM
Businesses producing necessities can stay open as cluster grows
PHNOM PENH--Prime Minister Hun Sen​ ordered Phnom Penh and Takmao city in Kandal province under a 14-day lockdown from April 14 to curb the spread of COVID-19.
"Today there was a little bit chaos before we officially decided on the lockdown," Hun Sen said in a pre-recorded address.
"The real purpose of this lockdown is to fight the spread of the virus. We have thought carefully about this to ensure normal life for our people despite some impact."
All businesses selling unnecessary products in the capital must close. Garment factories are also closed. Exceptions are businesses and factories which produce necessary products such as food and other basic supplies, the Prime Minister said.
The government imposed the Phnom Penh lockdown after the city was hit hard by a new wave of infections linked to the February 20 community outbreak. So far, more than 4000 cases have been associated with the cluster while 36 patients have died.
The Prime Minister said that under the lockdown, up to two people in one household are allowed to go out and buy food three times a week at most. They have to bring identification cards and buy food at stores or markets near their home.
He said he had told authorities to prepare ways to help the most vulnerable people, especially poor people who are unable to earn during the lockdown.
Hun Sen urged people not to be anxious and not to panic. "Brothers and sisters won't starve due to the lack of food supplies," he said.
The government would take action to release important supplies to make sure food prices can't be inflated deliberately.
Hun Sen to punish officials for leaking the recording
Before the official announcement, Hun Sen's recorded message about the lockdown instruction had been leaked and circulated widely.
This caused anxiety and panic buying as people feared running out of food and basic supplies during the lockdown.
People were seen lining up at shops while many people rushed to markets to stockpile food, risking the further spread of the infection.
Prime minister acknowledged that his officials' mishandling of this work by allowing the leak of his instruction deserved a punishment.
"I apologize to our people as there was not yet an official decision, there was a leak of [voice] made by individual[s] who are irresponsible in our state and party leadership. I honestly admit that this kind of action will be punished when these people are found," he said.
Related Articles