Photo Phnom Penh: Cambodia's Art Photographers Today and Tomorrow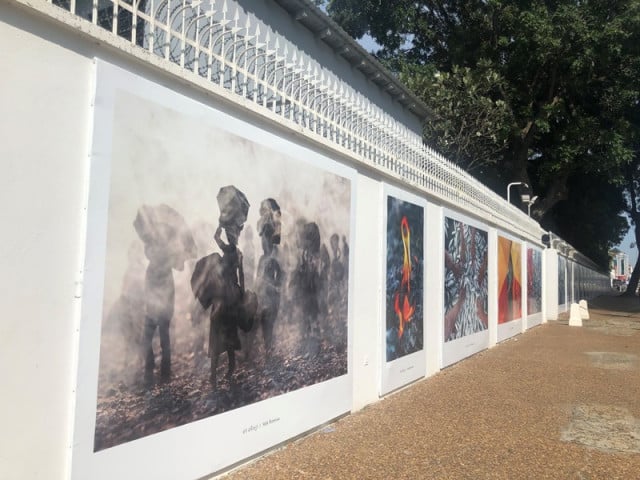 As Photo Phnom Penh (PPP) exhibitions have multiplied throughout the capital at indoor and outdoor venues since Oct. 24, the exhibition on the wall of the French Embassy along Monivong boulevard features some of Cambodia's most prominent art photographers.

Pioneers in a field that has developed over the last decade in the country, they offer powerful reflections on the country.
Photo by art photographer Neak Sophal entitled "Flower" exhibited on the wall of the French Embassy.
"Ten years ago, there were very few Cambodian [art] photographers, and now…at the festival, there are 25 photographers exhibited," said Neak Sophal, one of the few women photographers in the country.
"[It] would be hard to have photography in Cambodia,", she said, without PPP. The festival has not only featured Cambodian art photographers, but it has also offered series of photo workshops at the Institut Francais over the years.
Sophal's photo on the wall of the French Embassy is entitled "Flower." It was inspired by, she said, "[the] Khmer proverb, old song and poem [that] usually compares women to flowers and men to bees." Her photo is meant, she said, "to identify the imperfection of beauty in the woman's portrait" and highlight the negative connotations of the proverb.
Cambodia's Artists and the Art Market
Today, more and more young people may be interested in art and wishing to become artists, Sophal said. However, the lack of a Cambodian art market and support for the arts, plus the small population of potential buyers compared to other countries in the region may deter some of them from actually doing it: The lack of future financial stability makes it difficult to attract young art students, she said.
However, there still are, Sophal added, "many artists here who continue working on their own projects, speaking with their own voices, and are being exhibited locally and internationally."
Photo by Mak Remissa exhibited on the wall of the French Embassy.
Mak Remissa, who was one of the country's rare art photographers 10 years ago in addition to being a press photographer, believes that the development of arts-and-photography training platforms in the country would help the growth and quality of the Cambodian art scene.
In the meantime, he hopes that his work featured in PPP will, he said, "encourage young Cambodian artists to like and love photography and continue to create their own works.
"I think this [festival] is a good opportunity for Cambodian photographers to learn from and help develop their photography skills".
Photo by Kim Hak exhibited on the wall of the French Embassy.
For photographer Kim Hak, Photo Phnom Penh is an opportunity for people of all ages to get to know photographers as artists but also as people. "[T]hey might need to observe how each photographer works as well, as for many years in this industry, each of us found our own characters/languages," he said.
Hak believes that "schools/universities, art history, art critics" are among the things that the Cambodian art scene requires in order to hasten its slow growth.
"Most of us learned through workshops," he said. "We need a proper school of photography, which will provide us with extensive education.
"After students finish their studies, we need proper galleries to exhibit our work," Hak said. "We lack proper contemporary art galleries." Also, the absence of a contemporary museum to exhibit contemporary artists and photographers, old and new, means that the population has few opportunities to see Cambodians' works, he said.
Because in the end, the art scene and market will only grow if people in the country, he said, "appreciate art more, are more willing to buy art for their homes, offices and so on."
Photographers Reflecting the Country's Past, Present and Future
Photo by Khun Vannak exhibited on the wall of the French Embassy.
.
This is the first work that Khun Vannak did in 2014 to express that in our world today, we are, he said, "all also numbers as they are part of our identity, value or price."
For him, each artwork he creates is "to show the commitment to strict and rigorous means of expression and to explore more the contemporary situation in Cambodia."
Because, Vannak said, "the artists are part of this reconstruction."
"In the last few years…many artists have explored the contemporary situation of the country and remembered its history, expressed memory and identity, and also look toward the future and draw proposals," he said.
As the Khmer Rouge regime (April 1975-Jan. 1979) nearly destroyed the country's cultural history and resources, Vannak said that one consequence of this tragedy has been that, he said, "people here also lost interest in the arts."
The Khmer Rouge regime and genocide left Cambodians with the gargantuan task of remembering a past that was stolen from them. Artists are a part of the movement to remember and revive and continue to build the nation's cultural glory, Vannak said.
Related Articles