Photo Phnom Penh: the Best of Cambodian and Foreign Photography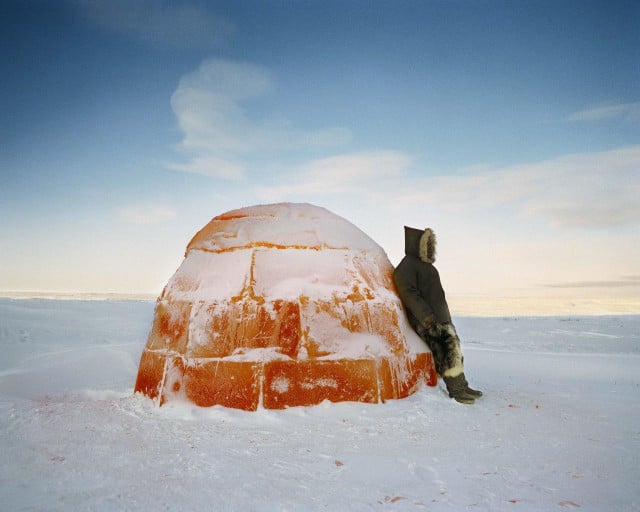 If there were any doubt as to how popular the Photo Phnom Penh festival is among young Cambodians, its organizers were recently reassured.

And a little surprised, said Christian Caujolle, the event's artistic director.
They recently issued a call for volunteers to help hold the event that operates on a very modest budget. "Within a day and a half, 120 young men and women had registered as volunteers," he said. "This would have been unimaginable in 2008."
And the changes that have taken place since the Institut Francais first held the event 10 years ago don't stop there.
For the first time, the photos exhibited on the outer walls of the French Embassy on Monivong Boulevard, which were always reserved for French photographers, feature the work of 10 Cambodian art photographers, said Caujolle, a founder of the VU photo agency and an international authority on photography.
This, he said, is France's way to pay homage to Cambodian photographers and stress their importance in art photography, he said, as several Cambodian photographers have their works in foreign museums from Singapore to Paris and New York City.
Photo by Cambodian photographer Sovan Philong. © Sovan Philong

A Citywide Event
Launched Thursday and running through Nov. 24, the festival includes a series of openings, the last one taking place on Nov. 2 at Batia Sarem Gallery in Siem Reap City, which will be the first time the festival includes an event outside the capital.
Held at several locations—ranging from the Institut Francais, the Bophana Center, Java Café at Independence Monument and La Plantation, to Sra'Art Gallery and Chaktomuk Secondary School—the festival features more than 50 Cambodian and foreign photographers. Outdoor locations include Koh Pich where 25 works from Asian and European photographers are displayed on large boards.
Phnom Penh Photo did not impose a theme for the photographers to address: They were free to select their own topic.
However, there was one exception, said Sovan Philong, a photographer and vice-president of the Phnom Penh Photo Association, which oversees the event. The Delegation of the European Union asked to have photos addressing climate change to be displayed on the outside wall of the delegation building.
So 10 European photographers who had taken part in previous Photo Phnom Penh festivals and 10 Cambodian photographers took up the challenge. "The photographers did not discuss together what they would do," Philong said. And yet, he added, "The photos complement each other."
Self-portrait by Cambodian artist and photographer Mak Remissa. © Mak Remissa

Featuring an Art Photography Pioneer
Ten years ago, the organizers of the first festival had difficulty finding four Cambodians who did art photography, Caujolle said.
A few artists such as Kvay Samnang had taken up photography but most trained photographers worked for the press, having to earn a living.
But there were a few rare exceptions such as Mak Remissa. An artist who had studied art and photography at the Royal University of Fine Arts (RUFA), he was working for the European Pressphoto Agency--as he still does today—but also had some of his art photos exhibited in European museums. So his work featured in the first Photo Phnom Penh festival and he has helped train some of today's art photographers.
Born in 1970, Remissa attended RUFA from the mid-1980s through the mid-1990s. Some of his work has been micro-photography such as his series "Fish and Ants" in which he played with water and light.
For this festival, however, he went back to his artist's roots: For the first time in years, he took up brushes. "Since this is the 10th edition of the festival, I wanted to dedicate my paintings to photography."
So Remissa did 10 oil paintings in reference to the festival's 10th anniversary: self-portraits of him at work as a photographer with different types of cameras and at locations where he actually worked.
For example, one painting shows him among heavily-armed soldiers at Preah Vihear when Cambodian and Thai forces faced each other a few years ago as Thailand claimed that this Angkorian monument was on Thai soil. "These pictures, you know: They are all my memories," Remissa said.
His series of paintings, which took him one year to complete, is exhibited in the gallery of the Institut Francais.
Photo by Jun Ahn exhibited at Koh Pich island. © Jun Ahn

An Event of National and International Renown
Over the years, Phnom Penh Photo festival has presented an array of challenges if only to get authorization to exhibit at outdoor locations, said Kor Borin who is in charge of cultural activities at the Institut Francais and has been involved in the photo festival from the start.
One major change to take place is that the festival, which at first was managed by the Institut Francais, i6s now mainly handled by the Phnom Penh Photo Association and its numerous volunteers, he said. This is an enormous task and accomplishment on their part, he added.
The festival has acquired an international reputation as one of the leading photo events in Asia, said Bernard Millet, the French Embassy's cultural attache. Hopes are, he said, that Phnom Penh Photo may eventually contribute to generating photography collectors in Cambodia as there are in China, Japan and western countries.
Related Articles