Picture This: ASEAN as Seen by the Young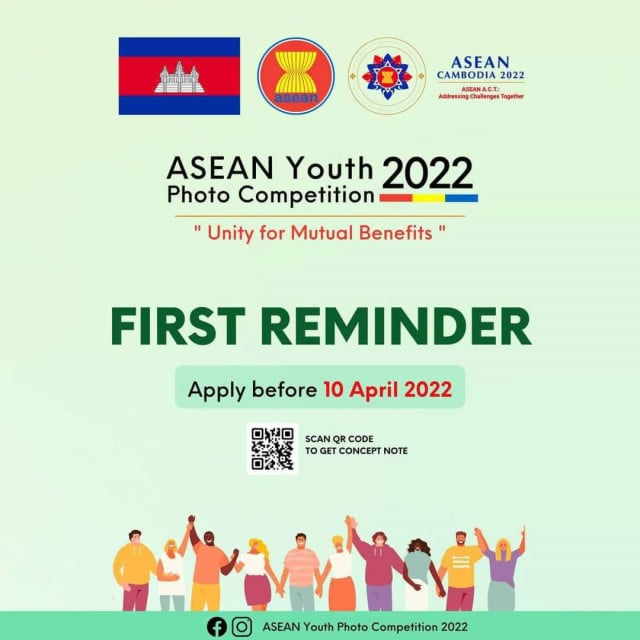 Contest offers prizes for images of togetherness
Visual information has been one of the main aspects of social media and photographic technology has advanced rapidly. Sharing and storing quality images has never been easier. However, linking pictures to a particular concept is also important. Bringing these aspects together may bring about a more connected world. Ky Chamna spoke to Yang Monyoudom, Tun Achasambath and Pich Sreyleak, organizing committee members of the ASEAN Youth Photo Competition 2022, to learn how this contest can make ASEAN more connected.
Ky Chamna: Why was photography chosen for your competition? What is unique about photography that makes it stand out compared with other arts when it comes to ASEAN connectedness.
Organizers: People from ASEAN may speak different languages but with photography, they all speak the same one which enables them to feel more connected and understand each other. Photography is an outstanding and interesting art.
To take a good photograph requires something beyond talent and skills. It also necessitates many other criteria, including the right location, timing and subjects.
Moments exist only once but they can be captured by photographs. That is why many people like to say that photographs tell stories, sometimes untold, through the unique lens of photographers.
These stories bring people together to discuss and reflect and eventually may inspire action for positive changes. As the photographs remain intact, the stories or the moments live on.
In our competition, we have very high hopes of interested ASEAN youths narrating their own stories to the whole region or even the world through their own photographs in line with our theme "Unity for Mutual Benefits".
Ky Chamna: Your theme may sound a bit abstract for some people. Why did you pick it and can you explain it in simple terms?
Organizers: Unity is a core value formally endorsed by ASEAN ever since its establishment in 1967. This core value signifies the familial cooperation of the 10 member states across all aspects, whether it be political, economic, or socio-cultural.
Such cooperation is expected to bring about a sharing community that is inclusive and harmonious where the well-being, livelihood and welfare of the people in the whole region are enhanced.
In recent years, we have faced many unprecedented challenges, including the COVID-19 pandemic, power competition and climate change. On the other hand, we have also seen new opportunities pertaining to Industry 4.0, the green revolution and deepened promotion of international trade.
All these developments cross boundaries and no single country could experience them alone. In this regard, ASEAN unity has become more important than ever. ASEAN has to stand shoulder to shoulder to overcome those challenges and maximize mutual gains from these opportunities.
Ky Chamna: What are the requirements for those who wish to enter in terms of age, occupation or citizenship? What kind of camera may they use? Is color adjustment allowed?
Organizers: The entry requirements are simple. Eligibility criteria include any ASEAN member states' citizens aged between 18 and 35. Previously awarded photos are not accepted.
Photos have to be shot solely by applicants in ASEAN member states but with no specific date and in JPG or JPEG format. Resolution may range from 150 to 300 DPI. File size can be between 3 and 5 megabytes for the application stage, a larger size is required only if it is selected. Cropping, minor adjustments or color adjustments are allowed.
Photos must not contain watermarks, timestamps or borders. Photos taken on phones are allowed as long as they meet the conditions. Applicants may access our concept note for further information at: http://shorturl.at/ekpPU.
Ky Chamna: Beyond learning more about photography, what else can participants gain from this contest? What will the prizes be?
Organizers: Participants will gain many opportunities and experiences from taking part. They will be able to engage with other youths not only from their own country but also other ASEAN countries.
Through this engagement, we firmly believe that they can improve their social skills, build networks, share and understand cultural diversity within ASEAN, and more broadly, contribute to the ASEAN community-building process.
Winners will bring honor to their home countries but specifically at the end of the competition, we will select three top three winners. Each will get a DSLR body, a photo album, a token, a certificate and an invitation to receive the awards in person at the ASEAN Socio-Cultural Committee Council meeting in Cambodia.
We will also select one most popular photo and 10 honorable mentions. Both categories will receive the same rewards and the former will get an additional cash prize.
Ky Chamna: You will host a virtual orientation session on March 26 to give potential participants some ideas about the contest. How will you prepare them with what they need to know?
Organizers: We are ready to help answer all their questions to prepare them for this once-in-a-lifetime opportunity. We are looking forward to seeing them online. The contest deadline is April 10. Registration details are at: https://forms.gle/KXrfhht3rtvsPn6U9.
More about the event:
Facebook page: ASEAN Youth Photo Competition 2022
Instagram: aseanyouthphotocompetition2022
Related Articles