Pigs Dying Across Cambodia, African Swine Flu Believed to Be Cause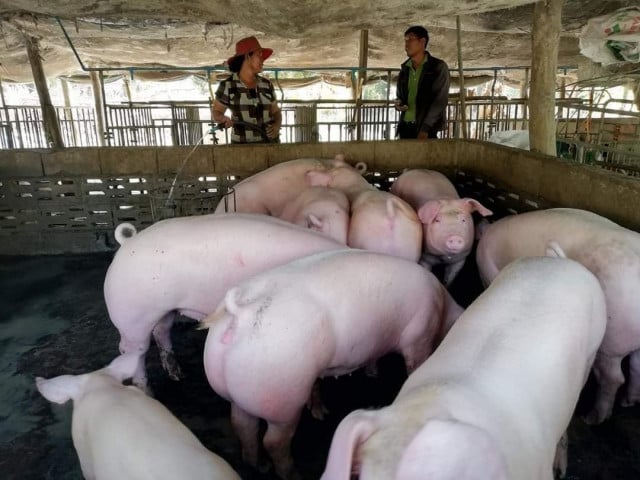 Pig farmers blamed their Thai and Vietnamese counterparts for importing disease into Cambodia, but there is little evidence to suggest the pigs died from African swine flu or that it was imported
PHNOM PENH--Cambodia's pig farmers are facing severe losses a number of pigs across the country have died of an unknown illness, leaving those rearing with rising debt and diminishing means of paying it off.
Leang Chantha, a pig farmer in Kampot Province said on Jan. 3 that he had 41 pigs die in their cages between Dec. 14 to Dec. 16 and while he couldn't be sure it was African swine flu, as the pigs had been vaccinated prior to their death, he has now lost roughly $5,000.
Unable to pay off the debt he had taken on to purchase and raise the pigs, Chantha said he will quit the pig farming business and find another way to raise $5,000 to pay the bank back.
"Pigs are dead almost all over the village, no traders come to buy here. I have to pay the bank. So [I] have to turn away from this business first," he said. "How can I continue to raise them when the mother pig died after I'd fed her for five or six months, I lost everything."
Meanwhile in Kampong Speu Province, 23 pigs got sick and died on Dec. 26, but Sem Vanna—the farmer—does not know what happened, but said that he lost $2,500 and has also quit the pig farming business.
"I called a veterinarian to check them and he did the normal injections as he did not know what the disease was," Vanna recounted. "At first, just one and two pigs did not eat much, then they all were infected."
Suspecting that the illness may be connected to illegal porcine imports, Vanna called on the Ministry of Agriculture to strengthen controls on animal productions to improve local pig farms and simultaneously prevent illegal imports from entering neighboring countries.
Minister of Agriculture Veng Sakhon said that most of the dead pigs were caused by African swine flu, but then went on to blame farmers for not following ministry guidelines on caging pigs.
The new method of raising pigs is to raise them in closed cages or so-called biosafety, but some farmers raise them as a family. He warned that this can lead to diseases that can then affect people who purchase the pork at the market.
"Most of the dead pig cases are [due to] African swine flu because we have seen [it] in neighboring countries like Thailand and Vietnam, pigs are infected," Sakhon said.
Srun Pov, president of the Cambodia Livestock Raisers Association said that he has submitted a letter to authorities in border provinces to help prevent the illegal import of pigs from Vietnam so as not to affect the local pig market price and prevent the spread of African swine flu into Cambodia.
He said that suspension of imports on pigs from Vietnam is very important, but there are still gaps due to traders who smuggle illegally over water, which Pov said he believes is the cause of the outbreak.
"[It's important] to prevent the smuggling of both pig meat and live pigs illegally, if not, it makes our country worse because of the smuggling," he said.
Pov then warned that African swine flu could bankrupt farmers who will lose everything as they did in 2019, but he was unable to provide any data on the latest spat of pig deaths.
He also called on farmers to be extremely careful and to ensure proper hygiene of pigs and their cages.
Related Articles