Plan to expand Sihanoukville airport approved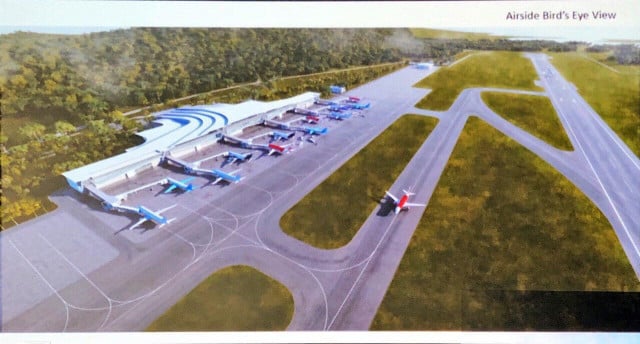 Thmey Thmey
September 15, 2019 5:48 AM
Expansion to allow airport to handle up to 10 million passengers a year

PHNOM PENH --The State Secretariat of Civil Aviation says it has approved a plan to start expanding Sihanoukville airport ahead of Cambodia's chairmanship of ASEAN in 2022.
Under the first phase starting early next year, a new terminal handling about 3.6 million passengers a year will be built, the secretariat said Thursday.
The second phase from 2022 will allow the airport to accommodate up to 10 million passengers
Runway expansion from 2,500 to 3,300 meters is expected to be completed in mid-2020, the secretariat said.
The expansion plan was approved during a meeting last week between Mao Havannall, the minister in charge of the secretariat, and Alain Brun, chief executive of Société Concessionnaire des Aéroports (SCA).
France's Vinci Airports holds 70 percent of SCA. The remaining 30 percent is held by Muhibbah Masteron Cambodia, a Malaysian-Cambodian venture.
Triple-digit growth
According to SCA, Sihanoukville International Airport has been experiencing triple-digit growth, handling 338,000 passengers in 2017. That compares with 8.8 million in Phnom Penh and 4.2 million in Siem Reap.
According to SCA, the three airports serve more than 55 destinations and welcome 700 regular flights a week, generating 17 percent of Cambodia's GDP in 2014-2015.
SCA has held a concession for managing and developing Cambodia's international airports since 1995.
Vinci operates 46 airports in 12 countries. In 2018, it handled 240 million passengers with airports in Phnom Penh, Siem Reap and Sihanoukville comprising its fifth-biggest market after Portugal, Japan, Chile and France.
Related Articles