Plans to Reopen Tourism Remain Vague, Frustrating the Private Sector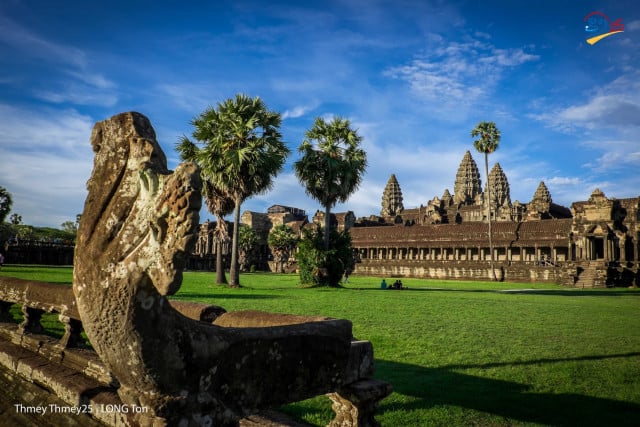 September 28, 2021 7:31 PM
The Tourism Ministry cannot provide a date for the reopening of tourism to vaccinated international visitors, but the Cambodia Tourism Association calls for the announcement to be made urgently
PHNOM PENH--The Ministry of Tourism is campaigning to promote Cambodia's tourist destinations in preparation for a return of international visitors, but plans to reduce or remove mandatory quarantine periods for fully vaccinated tourists remain vague.
Tourism Minister Thong Khon said he wants to encourage community-based tourism, but urged tourism operators and their staff to get vaccinated if they haven't already.
Speaking at the 41st World Tourism Day 2021 on Sept. 27, Khon reminded the tourism sector that they must cooperate with tourism authorities to keep destinations safe amid the COVID-19 pandemic. The "Cambodia Safe" campaign aims at restarting the ailing tourism sector as vaccination rates rise across the world.
"[The campaign is] to jointly prevent the spread of COVID-19, aim to build trust and confidence from national and international tourists, which is at the core of the resumption of tourism, especially to gain the reputation of Cambodia being safe," he said.
Tourism officials around the country are to help develop skills needed for the sector to get back on its feet and rebuild the tourism work force, which has largely been hollowed out by the 80.2 percent drop in international tourists between 2020 and 2021.
According to Prime Minister Hun Sen, some 110,000 Cambodians have lost hours or jobs in the tourism sector as a result of the pandemic.
But while Hun Sen spoke of relaxing travel restrictions, including the mandatory 14-day quarantine replete with a $2,000 cash deposit, so far, his words have not translated into actions. Rumors have abounded regarding changes to the travel restrictions, particularly in relation to vaccinated visitors, but as of Sept. 28, nothing has changed.
"The government has prepared and planned for establishing vaccine tourism but has yet to announce it officially. However, it may be established at the end of the year, probably around November or December," said Top Sopheak, a spokesperson for the Ministry of Tourism.
Sopheak said there was no scheduled date that he could make public, nor was there a date upon which an announcement might be made.
In the meantime, the Tourism Ministry is attempting to promote Cambodia as a "safe" destination to visit. Package tours, which are easier to track and confine to specific areas, have also been promoted, with food tours and themed packages seen as a potential soft reopening of tourism.
Chhay Sivlin, president of the Cambodia Tourism Association, urged the government to give a specific date for welcoming vaccinated tourists as soon as possible.
The fact that Vietnam is beginning to reopen and vaccine rates are climbing in Thailand, meaning that soon Cambodia will not be able to compete and the 14-day quarantine puts potential visitors off, she added.
Sivlin also said that the country's private sectors are ready to provide services for vaccinated tourists and reiterated the need for Cambodia to capitalize on its high vaccination rate and reopen before neighboring Vietnam and Thailand, largely regarded as Cambodia's biggest competitors for international tourists.
"Previously, we sold our travel bubble with our neighbor countries, making Cambodia the second or the third destination for tourists and they only visited Cambodia for a short time," said Sivlin during an event on Sept. 23 at Phnom Penh International Airport. "However, if we establish vaccine tourism soon or in November 2021, it is a good opportunity for Cambodia to arrange an independent tour package where tourists can travel for a long time and their expenses can increase."
Sivlin added that the fourth quarter of 2021 offers an opportunity for Cambodia, particularly as newly vaccinated Europeans and North Americans seek to escape the coming winter, but added that an announcement regarding the reopening of tourism was needed quickly to capitalize on this chance.
Related Articles