Plastic Waste Management Still Challenging for Tonle Sap Lake's Communities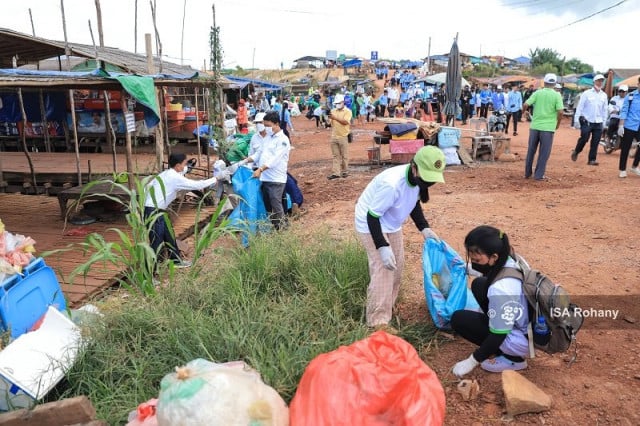 Lack of knowledge and increasing population contribute to garbage mismanagement
SIEM REAP – Despite many environmental campaigns from government and NGOs on cleaning cities and pushing people and communities to limit as much as possible their use of plastic, plastic disposal from floating houses is still common on the Tonle Sap Lake.
Chong Kneas community, a popular tourist destination for visitors who enjoy discovering the traditional way of life of fishermen living on a floating village, is no exception. The village still suffers from garbage pollution, partly because of a growing population and a lack of general knowledge on waste management.
During a campaign to clean up the environment in Chong Kneas​, held on June 22, Sea Sophal, president of the environmental NGO Bamboo Foundation​, said that plastic debris remains a challenge for the Tonle Sap community, which is not yet properly managed.
Sophal explained that his NGOs has worked hard to promote a clean up campaign and collect garbage in the community. He pushes to raise public awareness on environmental issues and distributes bags so people can better collect and store rubbish.
"Waste collection, management and awareness remain a challenge. This was especially true during the COVID-19 pandemic, where all my sensibilisation projects towards villagers and school children had to stop for sanitary reasons," he said.
To make the environment cleaner, Sea Sophal told Cambodainess that local authorities need to distribute bags to allow people to keep their trash together and educate villagers on how to properly manage it.
Authorities, along with villagers, should also set up a garbage collection site, so everyone knows clearly where to dump their waste, preventing residents from throwing them in the water as before.
Hai Yong, director of the Siem Reap City's Office for Public Works, Transport, Sanitation, Environment and Public Order, explained that the garbage's management at the Chong Kneas area was complicated due to a lack of materials and budget.
He confirmed that in the past, he used to work with the commune chief to incite people to pack up their trash and drop it at a clear location on the mainland once a week, so that cars could come and collect them.
"Our plan was to manage garbage from the mainland as it is much easier than on the water. I asked the commune chief to work regularly to pack garbage and drop it at a certain location once a week, so a car can come and collect it," he said.
Chong Kneas and Kampong Khleang communes are tourism communities, where Sea Sophal's organization, with the support of the National Committee for Clean Cities Assessment of the Ministry of Tourism, aims to organize a "Clean Green Cambodia Campaign" under the theme "Clean Green Tonle Sap Without Plastic".
Speaking at the environmental clean-up campaign in the Chong Kneas community, Hout Rithy, deputy secretary-general of the National Committee for Clean City Assessment, called on the community to be committed to improve the environment in their area.
He added that environmental hygiene is very important in attracting tourists to the community. He also hopes that all communities along the Tonle Sap Lake will be clean and free of plastic waste to attract more national and international tourists to visit Cambodia.
Related Articles