PM Asks for Understanding on Gasoline Prices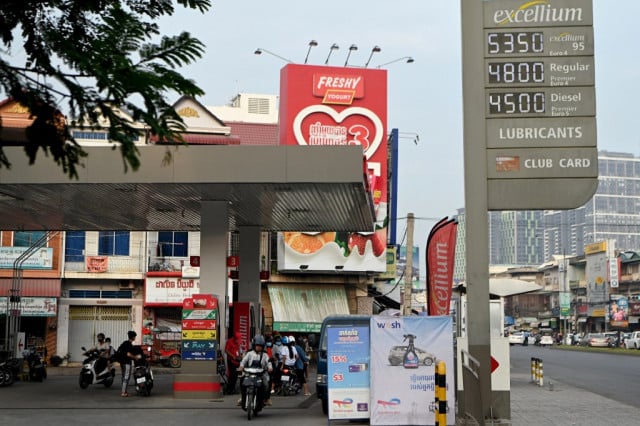 Informal workers suffer from soaring costs
PHNOM PENH--Prime Minister Hun Sen has asked for citizens' understanding about the rising price of gasoline and gasoil, saying the increases were not only in Cambodia but around the world.
Speaking at an inauguration ceremony for the official use of National Road No. 3 in Takeo province on Thursday, he said prices were rising even in countries where they produce oil.
The Commerce Ministry said on March 1 that the new price of regular gasoline was 4,960 riel ($1.22) per liter and 4,660 riels ($1.15) for diesel, also known as gasoil.
However, the price was reduced by four cents a liter for gasoline and gasoil after a decision by Prime Minister Hun Sen to help citizens' living costs, reducing the price to 4,800 riel ($1.18) for regular gasoline and 4,500 riel ($1.11) for gasoil.
Despite the reduction, the current price is up 100 riel compared with the previous 15 days.
The rises have been affecting people's lives, especially those working in the informal economy, including taxi and tuktuk drivers.
Chut Reaksmey, 32, who has been a tuktuk driver for more than three years, said he had lost half his income because of the price rises. Reaksmey said his vehicle uses at least 10 liters a day, though it sometimes depends on the number of customers he picks up.
"Before, I used to earn at least around $20 or more a day, but now there's only $10 at most – it is only enough for daily expenses on food and stuff," he said.
There were fewer customers these days and house rents were also rising, so there was not much left at the end of the day, considering that almost half of the daily income was spent on gas.
Fellow tuktuk driver Lim Sithet, 42, said the price rise had been a big issue for him, as fares remained the same.
His spending on gas depended on how much he can make in a day. He would spend at least $2.5 on gas when he earned around the same amount and would probably spend $5 if he earns more than $10.
"On some days when we did not earn enough, we even ran out of gas and asked for help from the other drivers. It's hard," Sithet said.
A Commerce Ministry spokesperson said the average price on the international market had become unpredictable. Officials were not sure if the price would decrease.
"As can be seen, there have been conflicts around the world lately, and these have affected demand for fuel in the countries involved in conflicts and even in the countries that produce oil," he said.
"These factors make it more difficult to predict the average prices on the international market. It's hard to figure out when it will fall."
Vongsey Vissoth, Secretary of State of the Economy Ministry, told a public forum on Macroeconomic Management and National Budget Law on Feb. 18 that people working in the informal economy were affected most by the rising price of gasoline.
However, this could not be helped. Reducing tax on gasoline was not a good choice because it could lead to a decline in national income as the government is under pressure to expand.
Rising gasoline prices is a global issue but to prevent excessive increases, the government has set a fixed tax rate to help ease people's livelihood.
Related Articles