PM Attends Funeral of Cambodia Supporter Abe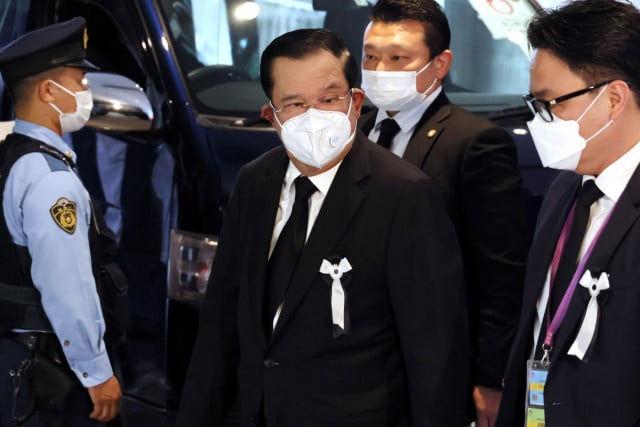 September 27, 2022 5:45 PM
PHNOM PENH – Prime Minister Hun Sen Sept. 27 attended the state funeral of Japanese former prime minister Shinzo Abe, calling him a true friend and loyal supporter of Cambodia.
Hun Sen was among 50 world leaders to attend the funeral at Nippon Budokan in Tokyo. Approximately 4500 guests attended the event. Abe was assassinated on July 8 while campaigning for the Upper House election.
Hun Sen wrote on his Facebook that Abe was remembered as someone who was always concerned about the welfare of the people and workers, social stability and national security of Japan.
"In addition, H.E. Abe is a true good friend and loyal supporter of Cambodia who has made a profound contribution to the development of bilateral relations and support for development in all areas of Cambodia," he said, noting Abe's role in elevating ties to Strategic Partnership in 2013.
"The generous gestures and sincere sentiments of H.E. Shinzo Abe will always be etched in the hearts of the Cambodian people."
Before the funeral, the prime minister met separately with Vietnamese President Nguyen Xuan Phuc and President of the European Council Charles Michel.
Related Articles