PM Decides to Extend SEA Games Budget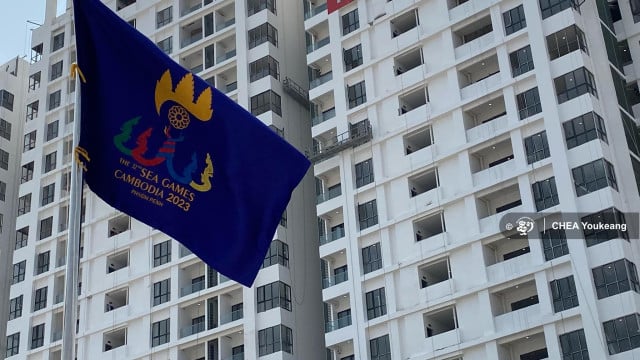 PHNOM PENH – An additional $7 million will be included in the initial budget for the 32nd Southeast Asian Games, Prime Minister Hun Sen announced on April 24.
Speaking at the inauguration ceremony of religious achievements in Preah Baromei Vongkat Borei pagoda in Phnom Penh, he said that food and accommodation fees for all sports delegates would be fully covered.
While the SEA Games country host usually charges $50 per person a day, Hun Sen announced the country would waive the fee. It is the first time Cambodia hosts the multi-sports regional event and the country has made it a matter of national pride.
"We [will] spend $7 million to pay for the athletes from other countries who will be joining in competitions in the SEA Games in Cambodia. Generally, they charge us $50 per person a day when other countries host, but we won't let them pay for the services. We will fully cover for them," the prime minister said.
Following the decision, the SEA Games' weight on public finances increased to $131 million, compared to the $124 initially planned.
While funds will come from the State budget, the Cambodian SEA Games and ASEAN Para Games Organizing Committees (CAMSOC) will be in charge to spend them accordingly.
In addition to providing free accommodation and food for delegates, the government will also provide free entry for spectators and free broadcasting rights for media partners.
A total of 12,404 delegates from other countries, including competitors, coaches and officials, are expected to come to Cambodia for both the SEA Games and ASEAN Para Games.
Around 8,000 athletes will compete in 36 sports in 584 disciplines.
The 32nd SEA Games will officially kick off on May 5 and will end on May 17. The ASEAN Para Games will then be held from June 3 to 9.
Since March 21, the SEA Games torch has been on a tour across the sub-continent, from Siem Reap to the 10 other Southeast Asian countries – including Timor Leste, which is not yet an ASEAN member State – attending the regional competition.
It arrived in Vientiane, the capital city of Laos, on April 22, and will be relayed back to Cambodia through the border in Stung Treng province.
From there, the torch will be carried to Phnom Penh before starting a tour of the country which will lead it to Kampong Chhnang, Pursat, Battambang, Siem Reap and Kampong Thom provinces.
It will then be transferred back to Phnom Penh, where its arrival at Morodok Techo National Stadium will mark the start of the competition.
Meng Seavmey contributed to the story.
Related Articles