PM Highlights ASEAN Spirit of Togetherness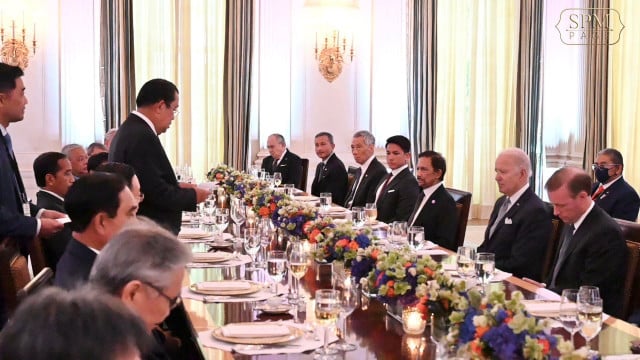 Leaders mark dialogue at White House dinner
PHNOM PENH – Cambodia, as current ASEAN Chair, has chosen the theme of "ASEAN together" to solve all challenges based on the bloc's spirit of working together, Prime Minister Hun Sen has said.
The bloc's aim was to maintain peace and stability and promote the implementation of sustainable and inclusive prosperity, he said at a dinner between ASEAN leaders and US President Joe Biden in Washington on May 12.
ASEAN recognized the positive role of its external partners, especially the United States, in this process. And it appreciated all the US has done for the region, he added.
The PM expressed deep gratitude to the President and the people of the US for their support of Cambodia's role as ASEAN Chair.
This was the 45th anniversary of the ASEAN-US Dialogue and was an appropriate time for ASEAN and US leaders to mark the partnership.
"We now have the opportunity to reflect on the long-term process that ASEAN and the United States are working together to strengthen our relationship in all areas," he said.
Biden and ASEAN were due to meet on Friday. "This wonderful atmosphere gave many positive signals for the meeting," the PM said.
He added that with the rapid development of the common good, he would like to invite the President directly to the 10th ASEAN-US Summit in Cambodia in November.
Hun Sen also thanked the President for providing three million doses of vaccines to Cambodia and for promising five million more.
Related Articles