PM Hun Sen: Cambodia Cannot Stick to Neutral Diplomacy on Russia's Invasion of Ukraine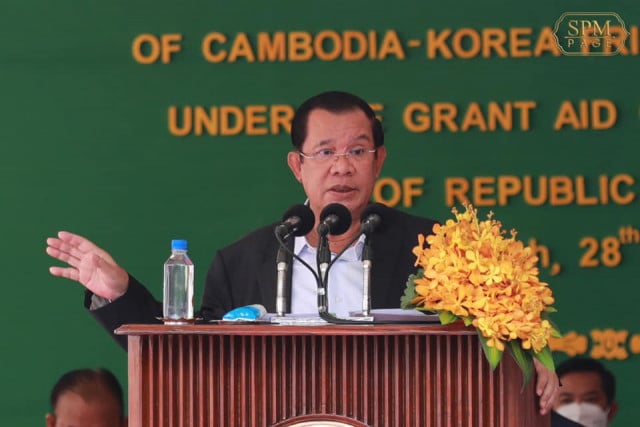 The prime minister reiterated Cambodia will stand with Ukraine
PHNOM PENH – Russia's invasion of Ukraine does not permit Cambodia to remain neutral, said Prime Minister Hun Sen, explaining why Cambodia voted in favor of a UN resolution on March 24, demanding civilian protection in Ukraine and criticizing Russia for creating a "dire" humanitarian situation.
"I maintain my stance no matter how many decisions [from the United Nations] are made, I will still stand with Ukraine," Hun Sen said at the inauguration of the Ears Nose and Throat (ENT) Center of Preah Ang Duong Hospital on the morning of March 28.
The head of government announced that Cambodia does not back any aggression because the country has suffered from a decade-long foreign invasion. Cambodia could not adhere to the neutralist policy for Russia's act of aggression upon Ukraine.
In this regard, he stressed that Cambodia respects and complies with the UN Charter, which prohibits the use of force upon other countries. Hence, Cambodia's condemnation of Russia is appropriate in regard to the actual situation and international law.
Hun Sen's justification is made in response to geopolitical observers and some public opinions who assess that Cambodia is still too small not to stand with the UN General Assembly. It was the second time Cambodia voted in favor of a resolution condemning Russia's invasion of Ukraine.
"Cambodia is always against any country who invades another country, not only for Russia," he said.
According to Hun Sen, Russia cannot use military force to invade Ukraine, nor can it dissolve the country's administration. Cambodia's head of government considers the conflict between Russia and Ukraine cannot end with the use of force; only negotiations can put an end to these flames of war.
Related Articles