PM Hun Sen: Cambodia Will Only Buy WHO-Approved Vaccine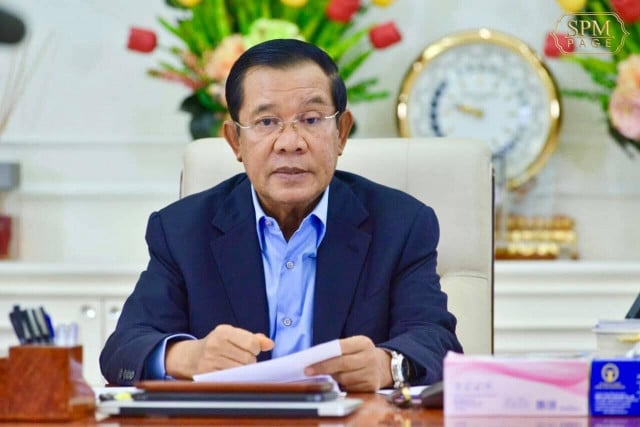 Phoung Vantha
December 15, 2020 10:51 AM
In a lengthy televised speech, Hun Sen offered no hint as to which COVID-19 vaccine Cambodia will receive, added that restrictions remain more or less the same and then lashed out at critics.
PHNOM PENH--In a nearly 4-hour televised speech, Prime Minister Hun Sen on Dec. 15 stated that Cambodia would only purchase a COVID-19 vaccine that has been approved by the World Health Organization (WHO). He stopped short of saying which, if any, of the current leading vaccines he planned to acquire.
"I won't accept any vaccines which are not recognized by the World Health Organization, even through donations, as it about people's health," said Hun Sen as he addressed the nation. "Cambodians are not going to be test subjects for the vaccines of any company or country."
He went on to say that all Cambodians will receive a COVID-19 vaccine for free and that he intends to buy at least part of the country's supply through COVAX—the vaccination element of the WHO's Access to COVID-19 Tools Accelerator.
Started in April 2020 in response to the pandemic, COVAX is an international cooperative platform that brings some 172 governments and at least nine vaccine manufacturers to the negotiating table in an attempt to ensure equitable distribution of a COVID-19 vaccine. This comes amid fears that developing nations will lose out to more economically powerful countries who have already begin pre-ordering large stocks of the existing vaccine candidates.
Through COVAX, Hun Sen said that Cambodia will receive some 6.4 million doses of a vaccine, enough for roughly 20 percent of the population—as each person will require two doses. He added that Cambodia will receive enough vaccines for 3 percent of the population—some 480,000 people—in COVAX's first vaccine distribution.
"I instructed Finance Minister Aun Pornmoniroth and Health Minister Mam Bunheng to register as buyers for more vaccines through COVAX as COVAX will not buy any vaccine that hasn't been recognize by the World Health Organization," said Hun Sen, adding that he has requested they purchase an additional 1 million doses.
The first recipients of the vaccine have already been identified, including almost 500,000 people.
So far the Cambodian government has received more than $48 million in donations, according to Hun Sen, although no list of donors or donations is publicly available. Cambodia government has set aside $100 million to $200 million for buying vaccines, Hun Sen added.
The government has a budget of about $538 million to fight COVID-19 and rehabilitate the economy, including a $250 million loan from the Asian Development Bank, some $238 from the Japanese International Cooperation Agency and $50 million from the Bank of South Korea, Hun Sen told the nation, but added this does not take into account the government's savings, the amount of which he did not disclose.
Over the course of his 3 hour 45 minute speech, Hun Sen offered little in the way of new information—COVID-19 restrictions will remain in place while health authorities continue to search for patient zero in the Nov. 28 community outbreak, but he did use some of his national address to lash out at critics.
He noted that people have accused him of being a dictator, but countered that under his rule nobody has officially died of COVID-19. He then went on to say that people in democratic countries had died, despite the virus affecting all countries irrespective of their style of governance.
Related Articles