PM Hun Sen Congratulates Aung San Suu Kyi on Myanmar Election Win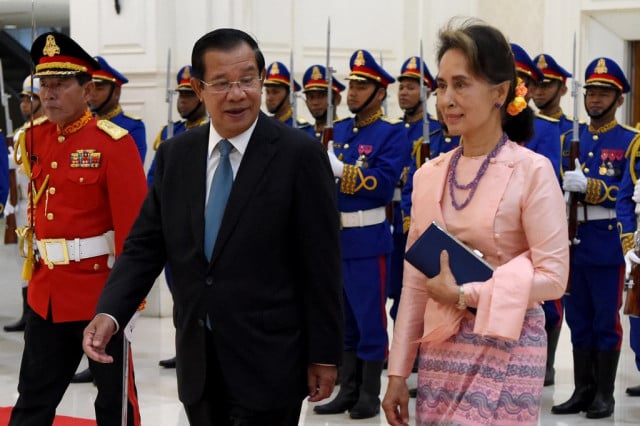 Phoung Vantha
November 18, 2020 10:03 AM
Following a landslide win for the National League for Democracy, Aung San Suu Kyi has been congratulated by Cambodian Prime Minister Hun Sen.
PHNOM PENH--Cambodia Prime Minister Hun Sen on Nov. 18 sent a letter to congratulate Daw Aung San Suu Kyi for her win in the Nov. 8 elections in Myanmar.
"I would like to extend my warmest congratulations to Your Excellency on leading the National League for Democracy (NLD) to another landslide victory in Myanmar's General Elections on 08 November 2020," he said.
The results have shown the trust and overwhelm support of the people of Myanmar to Your Excellency's leadership and NLD's rightful policy, he added.
"I am confident that with the new mandate of the NLD, Myanmar will continue to further promote democratic values, paving the way for inclusive and durable peace, stability and prosperity in the country," he said.
Hun Sen said that he continues to working closely with her to further advance the existing good relations and fruitful cooperation between Cambodia and Myanmar for the mutual benefits of our two peoples and the ASEAN Community as a whole.
On July 12 2020, Cambodia and Myanmar mark the 65th Anniversary of the establishment of diplomatic relations between the two countries.
Prior to Hun Sen's letter, India, Japan and Singapore had all sent congratulatory messages to Aung San Suu Kyi, even as the military-backed opposition party demanded a re-run of the elections. The military-drafted constitution of Myanmar guarantees the military 25 percent of parliamentary seats—enough to prevent any amendments that may change such a guarantee.
While Aung San Suu Kyi enjoys strong support domestically, she has drawn fierce criticism from the international community who condemned her weak response to the ongoing Rohingya crisis—a crackdown that the UN has previously described as ethnic cleansing.
Between her inability to cope with her own military's recalcitrance and the ongoing COVID-19 pandemic, which had as of Nov. 16 surpassed 70,000 cases and led to 1,599 deaths, Aung San Suu Kyi faces a tough task of living up to the democratic reforms that won her international support in 2015 when the NLD first came to power.
Related Articles