PM Hun Sen Declares Feb. 20 Outbreak Officially Over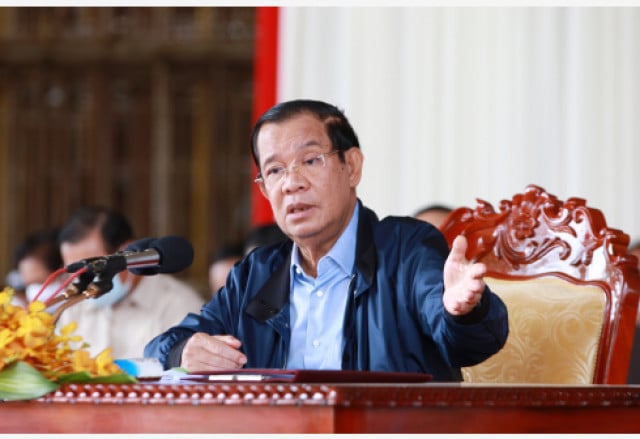 December 20, 2021 4:12 PM
As Cambodia recorded no new COVID-19 deaths for the first time since the Feb. 20 outbreak began, Prime Minister declared the outbreak over, but urged people to continue to get vaccinated
PHNOM PENH--Prime Minister Hun Sen on Dec. 20 announced the end of the Feb. 20 community outbreak after the Ministry of Health reported no new COVID-19 deaths for the first time since the outbreak began.
Ten months after Cambodia was hit by the worst COVID-19 outbreak since the pandemic began, the Health Ministry has recorded 120,423 cases of COVID-19 and 3,005 deaths, although the change in counting cases that took place from Oct. 1, 2021 likely means there are more COVID-19 cases than officially recorded.
However, in light of the first case of the Omicron variant of COVID-19 being detected in Cambodia on Dec. 15 and rising to four cases since then, Hun Sen urged people to get a booster shot if they have only had two doses of a COVID-19 vaccine.
Ministry of Health data from Dec. 19 suggests that 3,065,752 people over the age of 18 had received a third booster shot, while those aged 12-17 years old will be able to receive their third shots in January 2022.
He thanked China, Japan, the US, the UK and the Netherlands for the provision of COVID-19 vaccines and supplies throughout the pandemic. Another batch of 300,000 doses of AstraZaneca arrived from Japan through the COVAX system yesterday and some 2,350,530 doses of Pfizer are expected to arrive on Dec. 26 from Australia.
So far Cambodians who were vaccinated were 88.91 percent of the total population of 16 million, according to the Ministry of Health's data.
While the Omicron variant has prompted a rethink of restrictions worldwide and has now spread across all six continents, Hun Sen's declaration of Cambodia's reopening on Nov. 1 remains unchanged, with fully vaccinated travelers able to enter Cambodia without quarantine.
Related Articles