PM Hun Sen Lashes Out at Singaporean Diplomat over Myanmar Trip Criticism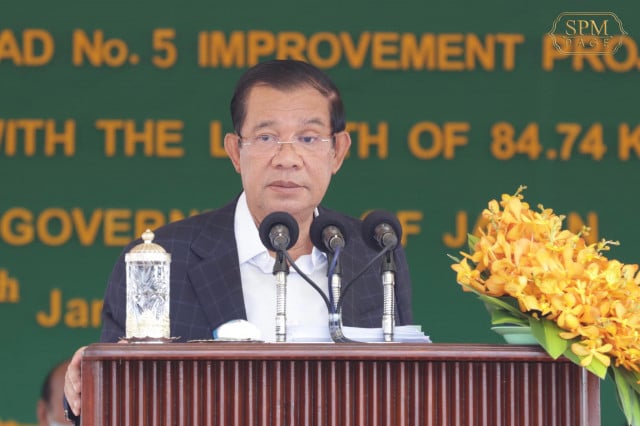 Cambodian officials have defended Prime Minister Hun Sen's trip, two days after which Aung San Suu Kyi handed additional jail time
PHNOM PENH--Freshly returned from meeting generals of the Myanmar junta, Prime Minister Hun Sen has hit back at critics—namely a veteran Singaporean diplomat who denounced Hun Sen's two-day trip as "nothing substantive" in relation to the unfolding crisis that followed the Feb. 1 coup.
Hun Sen was speaking at the inauguration of National Road 5 when he decided to lash out at Singaporean diplomat Ong Keng Yong.
"I just wanted to respond to his excellency Ong Keng Yong. You don't understand; you have not gained enough experience in seeking and building peace in a country because you were born in an already peaceful nation," said Hun Sen, who has ruled Cambodia for almost 37 years.
"I just want to advise you so that you can understand what is a problem and how to resolve it," he added.
Hun Sen's comments came after a report from The Japan Times which quoted Keng Yong, who served as the ASEAN secretary-general from 1998 until 2002.
Keng Yong deemed the joint statement issued following Hun Sen's meeting with junta chief Min Aung Hlaing as "full of words but nothing substantive to resolve the current political crisis regarding Myanmar."
Keng Yong then went on to say that Cambodia's strategy is "getting a fig leaf to allow Phnom Penh to invite Myanmar's foreign minister to attend ASEAN's foreign minister's retreat."
When reached for comment, Keng Yong said that he had only provided his opinion and had no retort for Hun Sen.
"I had responded to a Japanese media question on what I made of the media release regarding Prime Minister Hun Sen's visit to Myanmar in my capacity as a former Secretary-General of ASEAN," Keng Yong wrote in an email. "I gave my honest view. I do not have further response to what Prime Minister Hun Sen had stated in reaction to my remarks."
Prior to the trip Hun Sen had scolded critics who accused him of undermining ASEAN's Five-Point Consensus and engaging in "cowboy diplomacy," but Hun Sen also hedged his own bets, repeatedly saying that if his visit failed to address the crisis, it wouldn't be his fault.
"Cambodia spent four years negotiating among conflicting parties, but Myanmar already has scheduled August 2023 for the general elections," he said, adding that there was more work to be done and that the ceasefire agreed to by the junta was the first step.
Next, he said, he wanted to see humanitarian assistance and further visits by the ASEAN special envoy to Myanmar, although he did not specify whether he would insist on the special envoy meeting with other political factions besides the junta.
In the same address, Hun Sen also revealed that he would personally request Japanese ambassador Yōhei Sasakawa, who is chairman of The Nippon Foundation, to be his adviser as the current Chair of ASEAN.
"I want to request him to be my adviser this year in 2022 as the current ASEAN chair to help me facilitate the process. He has traveled 131 times and knows almost all parties there," Hun Sen said, adding that he would do so in the meeting with Sasakawa on Jan. 31.
Serving as the World Health Organization Goodwill Ambassador for Leprosy Elimination, Yohei Sasakawa also plays his critical role as envoy for national reconciliation in Myanmar as mediator for peace talks between the military and armed ethnic minority groups.
However, the same day that Hun Sen reflected on the criticism of his trip—which saw protests erupt in Myanmar with people burning his image and placing pictures of his face in toilets—former elected official and long-standing face of democracy in Myanmar Aung San Suu Kyi was handed an additional four-year prison sentence for possessing walkie-talkies.
This is on top of the two-year sentence the 76-year-old received in December 2021 for allegedly breaking COVID-19 restrictions after she was deposed of in a coup that has seen at least 1,300 people killed by the junta and several thousand detained.
Hun Sen was the first foreign leader to meet with General Min Aung Hlaing since the coup took place on Feb. 1, 2021 and removed Aung San Suu Kyi and her National League of Democracy party which won the 2020 elections in a landslide.
Cambodian Foreign Minister Prak Sokhonn has since defended his boss' trip to Myanmar, saying it "yielded significant results."
Speaking at a press conference upon his arrival at Phnom Penh International Airport, Sokhonn, who is the special envoy of the ASEAN chair, said that the visit by Hun Sen secured an extension of ceasefires with other armed groups, the delivery of humanitarian aid, as well as pledges from the military to assist him in implementing the Five-Point Consensus.
Sokhonn also recognized that the crisis in that country was complicated and could not be addressed successfully in one trip, and that it will take time, patience and realistic approaches.
Related Articles