PM Hun Sen Lashes Out at Western Nations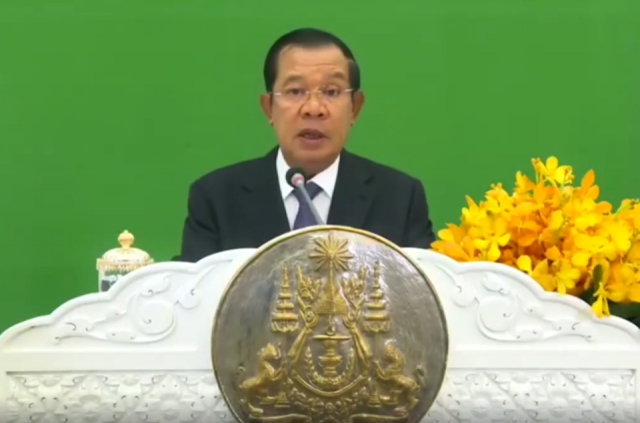 To commemorate the 75th anniversary of the UN, Prime Minister Hun Sen laid the blame for Cambodia's problems at the door of the international community.
PHNOM PENH--Prime Minister Hun Sen on Monday (Sept.21) denounced certain developed countries for punishing developing countries for imperfect nation-building. In a speech marking the 75th anniversary of the United Nations, Hun Sen claimed Cambodia could not reach the standards of rich countries and used his platform to criticize the rivalry of superpowers and the impact it had on developing countries' self-determination.
Hun Sen went on to say that the mechanism of multilateralism has come under severe assault, especially due to nationalism and protectionism exhibited by global superpowers.
He then took another swipe at developed nations, who he claimed were targeting developing nations who failed to meet international standards. Many have understood this as Hun Sen lashing out at the European Union for the recent withdrawal of certain trade privileges due to human rights concerns.
Hun Sen claimed that developing countries have limited capacity to protect fundamental human rights, such as rights to peace, rights to life, food and shelter.
"This is a significant factor that has contributed to severely damaging the national restoration and development efforts of poor countries due to the politicization of human rights in accordance with the geopolitical agenda of some developed countries," he added without naming nations.
Cambodia has drawn international ire of late for a renewed crackdown on critics, political activists, environmentalists and peaceful protesters. The Cambodian government has repeatedly claimed that it "cherishes" freedom of expression, but data provided by human rights group LICADHO has shown that 19 activists, artists and human rights defenders have been arrested since July 2020.
"This relentless crackdown began with the nighttime arrest of union leader Rong Chhun following public statements he made after visiting farming communities living along the Vietnam border," LICADHO reported on Sept. 22. "Over the next month and a half, activists who publicly called for Chhun's release were arrested and sent to pre-trial detention. They face up to two years in prison if judged guilty."
"The crackdown soon extended beyond activists calling for Rong Chhun's release. Environmental activists, young rappers and a Buddhist monk have all been imprisoned for speaking out about issues affecting their country and communities. Former members of the outlawed political opposition party have also been jailed," the rights group noted, adding that all those who lost their freedom since July 2020 have done so while exercising fundamental rights.
In a reference to the ongoing US-China rivalry, Hun Sen pointed out that the power plays of larger nations has affected developing countries' rights to self-determination. This, he argued, was forcing smaller states to make choices regarding their independence and development—particularly in choosing partners.
Cambodia has, in recent years, eschewed its traditional Western development partners in favor of China, who has gone on to become Hun Sen's largest benefactor. The relationship between Cambodia and China has grown economically and politically intertwined to the point that critics have warned Hun Sen is leading his country into a debt trap.
This newfound reliance on China has clearly ruffled feathers in Washington, with the US repeatedly warning against allowing the Chinese military to build a naval base along Cambodia's coast—an accusation Hun Sen has stringently denied.
Nevertheless, between the EU's scolding of Cambodia's human rights record, growing US suspicion over Hun Sen's ties to China and the recent string of arrests made against critics of the government, Cambodia's international image has not fared well this year.
This didn't stop Hun Sen from turning the blame back onto those who have condemned his government's actions.
"I am of the view that this is the real obstacle for developing nations to achieve the ambitious goals of the 2030 Agenda on top of the pressing challenges posed by the outbreak of the COVID-19 pandemic and its eventual socio-economic impacts," he noted in remark posted in Ministry of Foreign Affairs and International Cooperation's website.
He stressed that the global community requires a strong UN that is fully equipped to deal with the realities and address the challenges of the 21st century, adding that Cambodia recognizes the central role of multilateralism in addressing today's complex global challenges.
The high-level meeting is being held virtually as leaders from all over the world could not attend the meeting at UN Headquarter in New York due to the pandemic. The meeting was held ahead of annual General Assembly to be held this week.
Related Articles