PM Hun Sen: Make it Easier for Registered Parties to Participate in Elections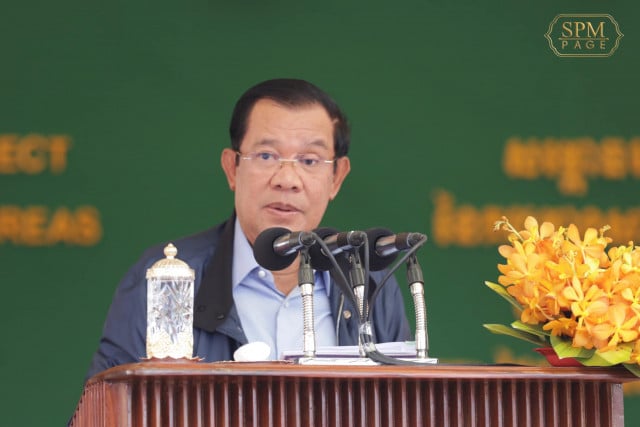 Now in his 37th year of power, Prime Minister Hun Sen has ordered local authorities not to harass other political parties during the upcoming June 2022 commune elections

PHNOM PENH--Prime Minister Hun Sen ordered authorities to make it easy for registered political parties to participate in the upcoming elections.
Speaking at a ceremony for new bridges in Kratie Province, Hun Sen said that he did not want to see any violence in the upcoming elections and called for authorities to coordinate with all parties that have registered to participate in the June 2022 commune elections to ensure that other parties beyond the Cambodian People's Party (CPP) have the right to assemble members and raise banners.
"Not only the ruling party has right to raise banner, other parties also have the same rights. We can gather publicly, so can other parties," said Hun Sen, who has ruled Cambodia for 37 years.
"I would call for all relevant parties and all provinces to guarantee freedom of meeting for other political parties. They may have the opportunity to put up party labels at the places we have designated, and political parties must abide by the rules and regulations of the NEC [National Election Committee] in force," he said.
Sroy Khet, vice president of the Cambodian Indigenous Democracy Party, said that he believed the next upcoming election will bring a fruitful result and fairness to all parties, and that his team is ready for joining the election.
"We are ready in terms of member representatives, budget plan, and policy designing to compete with other parties in the upcoming election," he said, adding that he believes this year's election will have a good result with fairness and justice.
Previously Khet said he had been confronted by authorities disrupting his political activities, but he chalked this up to local officials not understanding the law they were supposed to enforce and abusing the power they had to do so.
"I really support the prime minister's order to authorities not to restrict and oppress any political activists in gathering and campaigning anymore," he said. "He called for citizens to vote for the best party which can help solving problems of citizens without any barrios and restrictions."
Korn Savang, a senior official with the Committee for Free and Fair Elections in Cambodia (Comfrel), said those authorities should understand their roles better and fulfil their duties perfectly—they shouldn't need an order from a prime minister.
"It's a good order to alert them, but local authorities should adhere to the principles and duties equally for all political parties, there's no need to wait for order or announcement from Hun Sen as a democratic country," he said.
For Savang, the fact that the NEC has budget to operate for the upcoming elections is good, but the need to pay attention to technical issues and the principles of equality, freedom, fairness and privacy for voters will be key.
"We suggested relevant parties should check the participation and citizens' right to vote neutrally which is important to pay attention to if the upcoming competition is to be free and fair," he said.
The NEC's budget for the 2022 commune election is $43 million, a significant drop from the NEC's 4th Mandate in 2017 when more than $52 million was allocated to commune elections.
"The NEC is ready and preparing the master plan of the work calendar and updates to the regulations and procedures, as well as other legal documents to ensure the smooth management of the commune elections successfully," said Prach Chan, chairman of the NEC.
Currently, there are a total of 45 political parties in Cambodia. However, it is not yet known how many political parties will contest the upcoming election or whether the presence of other parties can wrest any power from Hun Sen's CPP, which has famously refused to share power in the past, even ousting FUNCINPEC in a 1997 coup that left 32 people dead after a power sharing agreement between Hun Sen and Prince Norodom Ranariddh fell apart.
Related Articles