PM Hun Sen Orders Developers to Stop Seizing Homes from Buyers Slightly Behind with Payments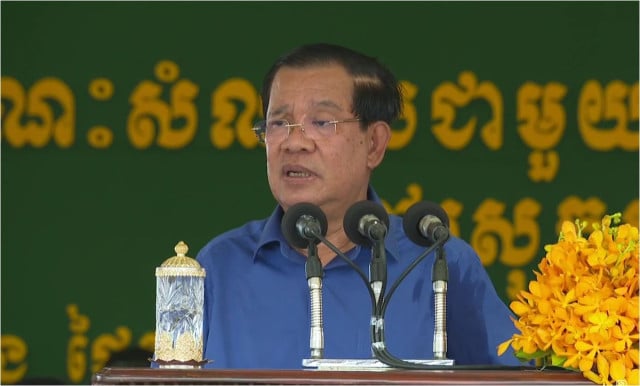 PHNOM PENH -- Prime Minister Hun Sen has ordered property developers to stop confiscating the houses of their customers who were unable to pay their installments for just a few months due to the economic crisis.
Speaking to more than 18,00 workers from 11 factories and enterprises in Kampong Chhnang province on June 9, the prime minister asked that the boreys (real estate community developers) who had issued loans to buyers who were making installment payments directly to them not to seize their properties for a few delayed payments.
"How many people's houses were confiscated," Hun Sen asked. "Which developers do that?"
He then stressed that it was unfair for some people who had already paid $50,000 on a house worth $100,000 to have it confiscated by their developers because they were just a few months late on their payments. It is social justice for them to have their houses back, the prime minister said.
Hun Sen told the Council for the Development of Cambodia (CDC) to collect data on the people whose houses were confiscated by developers, adding that those whose houses were confiscated should report their cases to the CDC. He also asked real estate developers to restructure their loans and loan policy for the buyers who had applied for installment payments directly with them during the economic crisis created by the COVID-19 pandemic and the Ukrainian-Russian war.
Chrek Soknim, president of the Cambodian Valuers and Estate Agents Association (CVEA), said on June 9 that his association did not have data on the number of people whose homes had been seized for non-payment but that he had heard of some cases through news reports.
Soknim stressed that it was an unfair and unacceptable measure for a buyer who had been making installment payments for four or five years and was late with payments for one or two months to have a company confiscate his property.
"Expropriation should be the last step: They should take some time to discuss it to find a solution and common ground with each other," Soknim said.
Prime Minister Hun Sen also urged buyers to be responsible. They have to pay their installments based on their resources, he said. If they paid $500 per month before and now pay $300 per month, they should not take advantage and no longer pay just because he mentioned this, the prime minister said.
Related Articles