PM Hun Sen Orders Four Ministers to Address Damage Caused by Floods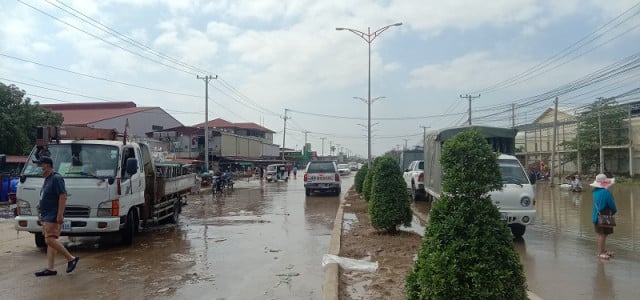 After floods killed 40 people and displaced thousands more, Prime Minister Hun Sen has directed four separate ministers to immediately address the damage and repair critical infrastructure.
PHNOM PENH--Prime Minister Hun Sen on Monday (Oct. 26) ordered four ministers to swiftly assess the damage done by floods and repair affected infrastructure. He instructed them to help peopled affected by flooding and warned that he will follow their response closely.
This came while Hun Sen was speaking at a groundbreaking ceremony for a new bridge that will link Koh Pich to the new artificial island being constructed in the Mekong River, Koh Norea. Hun Sen singled out Sun Chathol, the Minister of Public Works, Lim Kean Hor, the Minister of Water Resources, Veng Sakhon—Agriculture Minister—and Ouk Rabun, the Minister of Rural Development.
He urged the four senior lawmakers to take urgent action within their respective fields of responsibilities.
"The situation is not normal, the procedure is also not normal," Hun Sen stressed while telling them not to wait for assessment from provincial departments, instead instructing them to send officials from their ministries to take action and visit the affected areas.
"Do not wait. Once the water decreases, [you must] repair [the damage] immediately. Do not wait for an assessment," he said, adding that the urgency of the situation requires immediate action.
According to the National Committee for Disaster Management, the death toll has now risen to 40, with roughly 540,000 Cambodians affected and some 470,000 evacuated from their homes.
Noting that many donations had been made to flood affected communities, Hun Sen also added that providing aid is not enough and that people need crops to grow, water for farming and infrastructure such as roads and bridges for travel.
As of Oct. 24, about 616 kilometers of national roads, provincial roads, red gravel roads and 1,685 kilometers of rural roads were damaged by the floods, according to the National Committee for Disaster Management.
More than 120,000 homes have been affected, 63 of which were damaged, while 925 schools have flooded. On top of this, some 270,000 hectares of rice, including more than 88,000 hectares of other crops, were also submerged.
Hun Sen stated that he would be closely following the work of the four ministers selected and the results of their efforts, but warned that if people complain about the government as a result of slow or ineffective work on behalf of the four ministers, then he promised to intervene personally.
"I'll wait and see, but if there is any place that receives a slow response, I'll go there," he said.
He then went on to praise the development project he was there to inaugurate. Funded by the Overseas Cambodia Investment Corporation (OCIC) operated by local tycoon Pung Kheav Se, the new $38 million cable bridge will be 824 meters long, 24.5 meters wide and is set to be completed in 35 months.
Also, in the project is a new 60 meter concrete bridge connecting Koh Norea—another development project run by the OCIC—to National Road 1. This bridge cost around $1 million and will be finished in 12 months.
Hun Sen said that the project demonstrates the policy of 'palm leaf covers sugar palm' which the money from particular investment projects funds other public development projects.
Meanwhile, the premier also announced the temporary use of Chom Chao's underground to ease traffic congestion in one of the important gateways to Phnom Penh.
Related Articles