PM Hun Sen Says No Country Closure as Omicron Cases Spike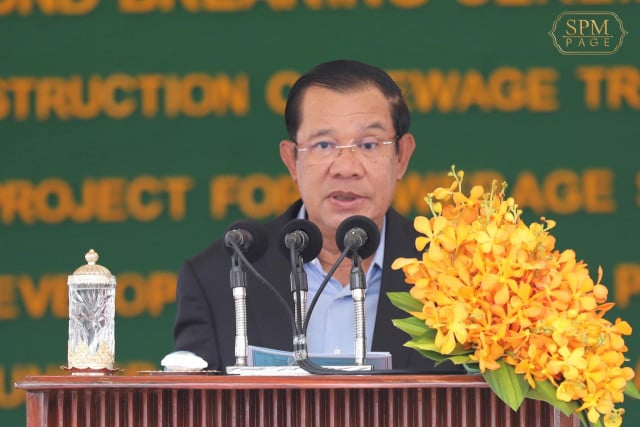 February 22, 2022 12:22 PM
Prime Minister Hun Sen sought to put rumors of another lockdown to bed as COVID-19 cases have jumped by the hundreds for more than a week now, prompting fears of fresh restrictions

PHNOM PENH--Prime Minister Hun Sen on Feb. 22 denied that Cambodia will go into lockdown or that any new restrictions will be introduced as COVID-19 cases, notably the more transmissible Omicron variant, have been spiking for more than a week.
The Cambodian authorities on Feb. 22 reported that 598 new cases of the Omicron variant had been identified—572 cases of which were locally transmitted while 26 cases involved people testing positive upon arrival to Cambodia.
All of these, however, only count PCR test results, while many more cases are suspected to have gone unreported to the authorities. Meanwhile, a further two deaths were officially reported on Feb. 22.
Hun Sen's announcement came while he was overseeing the groundbreaking ceremony for a wastewater treatment plant in Phnom Penh's Boeung Cheung Ek. He said that last year's lockdowns, red zones and curfew were due to a limited number of vaccinations having been administered at the time.
Currently, with the vaccination rates soaring nationwide—13.8 million people have received two doses while 6.3 million have had three as of Feb. 21—Hun Sen said there is no need to impose further restrictions on the capital or the country.
"In my position as Prime Minister, I can order the closure or the opening [of Cambodia], but I will not take the closure measures," he said. "Do not fall into disarray or rush out to buy groceries."
Hun Sen's comments reportedly came after he heard rumors that markets vendors were worried that they would once again have to close in the wake of surging COVID-19 cases.
The longtime ruler of Cambodia then called on hospitals and pharmacies authorized to sell COVID-19 medicines—chiefly the Molnatris Molnupiravir capsules used for treating COVID-19—to avoid price gouging and keep the medicine at a reasonable price.
Currently, the COVID-19 treatment drug is being sold for $55 per box by the Ministry of Post and Telecommunications, with people pictured queuing up to buy some in recent days.
The Ministry of Health will be sending specialized officers to inspect medical products sold at private hospitals and pharmacies to avoid imported counterfeits from flooding the market.
Or Vandine, spokesperson for the Ministry of Health, called on people to buy and use only those medicines that have been registered by the ministry, adding that there should be a registration number stamped onto the box.
As of Feb. 22, Cambodia has registered 127,575 COVID-19 cases since the start of the pandemic, while 3,022 people have lost their lives to the disease by the Ministry of Health's official count.
Related Articles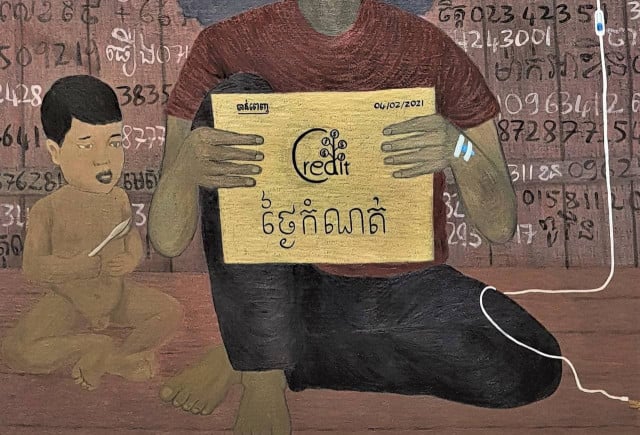 December 14, 2021 4:00 PM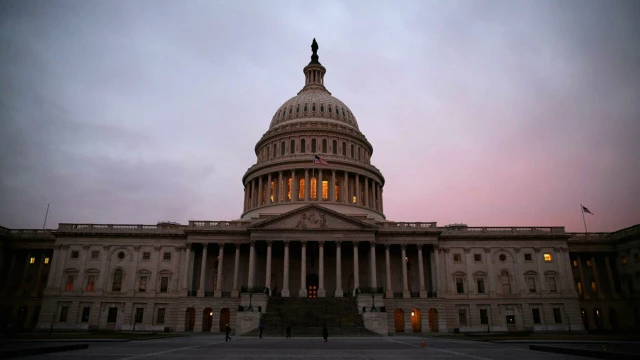 September 30, 2021 9:24 AM