PM Hun Sen Scolds Ministers for Slackness and Document Errors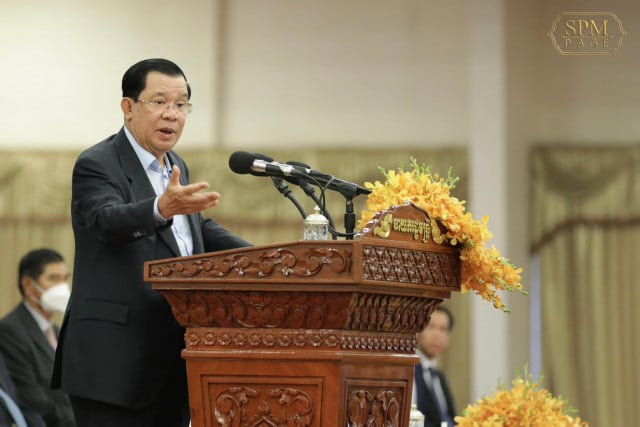 PHNOM PENH – Ministers must be meticulous in their work documents, Prime Minister Hun Sen says after several flawed documents slowed work processes.
"Ministers get lazy over time. When you become a minister, a governor, or a leader, do not be lazy. Keep learning and don't be ashamed," he said at a graduation ceremony at Build Bright University on March 16.
PM Hun Sen said some documents sent to him had no date and had spelling errors while some did not clearly state the context and intention.
He raised the case of a Ministry of Mines and Energy letter concerning a company requesting marble investment in Kampong Speu province. The company later withdrew the request.
In the letter, the minister of the Mines Ministry wrote to report the incident but did not ask Hun Sen for recommendations. Before sending it to Hun Sen, the letter was seen by the Office of the Council of Ministers.
However, the Office of the Council of Ministers added a request from the PM for a recommendation on the case.
PM Hun Sen criticised the Office of the Council of Ministers for its mistake and criticized the minister for other errors in the letter.
Only the National Defense Ministry, Interior Ministry, Finance Ministry, and Foreign Affairs Ministry can send documents directly to Hun Sen while the documents of the other ministries must go through the Office of the Council of Ministers.
"Many ministers make this mistake, in which the report only asks me to be aware of [some information], but instead ask me for the recommendation," Sen said referring to the documents that do not state precise points for recommendations.
He noted that the Interior Ministry, Finance Ministry, Culture Ministry and Ministry of National Assembly-Senate Relations and Inspection has done a good and precise job in the documents sent to him.
He cited letters from the minister of the Culture Ministry setting out points for the PM to make recommendations. This made it easier to make a decision.
Hun Sen also raised reports sent through messages such as WhatsApp, saying some ministers send disorganized and disordered information, making decision-making cumbersome.
He reminded ministers that the word "received" did not mean "agreed." If he only received a message, this did not allow action to be taken as some work needed formal documents and signatures.
"Laziness lingers from the lower to the upper levels," he said.
PM Hun Sen said he would broadcast the mistakes and name the ministers if he keeps receiving the inefficient documents. He said some ministers should not be lazy in their daily work as the 7th National Assembly election in 2023 is approaching.
Related Articles