PM Hun Sen Seeks Investment from the Philippines amid Falling Rice Exports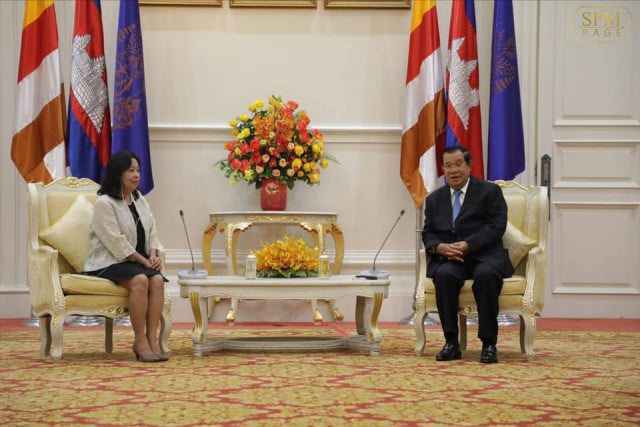 Sao Phal Niseiy
February 17, 2021 1:06 PM
The extreme weather events of 2020 have hampered rice production across Cambodia, but Prime Minister Hun Sen hopes that exports to the Philippines might help boost sales.
PHNOM PENH--Prime Minister Hun Sen on Feb. 17 met with Philippines Ambassador to Cambodia Maria Amelita Aquino to discuss the prospect of investments in Cambodia's rice production from the Philippines.
The discussion took place when Ambassador Aquino paid a courtesy visit to Peace Palace, where Hun Sen posed the question of the Philippines investing in Cambodia's rice industry.
"Samdech Prime Minister informed the Philippine Ambassador that Cambodia has larger amount of rice in stock, rich with around six million tons each year. With this, Prime Minister Hun Sen requests the Philippines to consider feasibility of importing Cambodian rice," an official statement from Peace Palace read.
Hun Sen, according to the same statement, also proposed that the Philippine side seeks to invest in Cambodia's rice mill machinery, construction of rice warehouses as well as the establishment of rice purchasing networks to facilitate the export of rice to the Philippines in the future.
According to the Cambodian Rice Federation, the exports of rice for January 2021 reached 34,273 tons, a drop of 32 percent compared to the same period last year, with extreme weather events and rising costs to blame. As China is the biggest market, ASEAN member states imported around 3,259 tons of rice from Cambodia, an increase of 9.5 percent.
Hun Sen said that he looked forward to expanding cooperation with the Philippines in areas of trade and investment in the post COVID-19 era during which both countries can look for other potential areas of cooperation under various existing frameworks.
On the other hand, during the meeting, Ambassador Aquino also congratulated the Cambodian government on the effective management of the COVID-19 pandemic, adding that she too hopes to expand bilateral cooperation between Cambodia and the Philippines on a wide range of issues.
Cambodia and the Philippines established diplomatic relations in 1957 and later on were cut off during Khmer Rouge regime until they were resumed in 1995. Since then, the ties between both countries have continued to grow economically and politically.
Related Articles