PM Hun Sen Told King and Queen Mother that Hun Manet will Take Over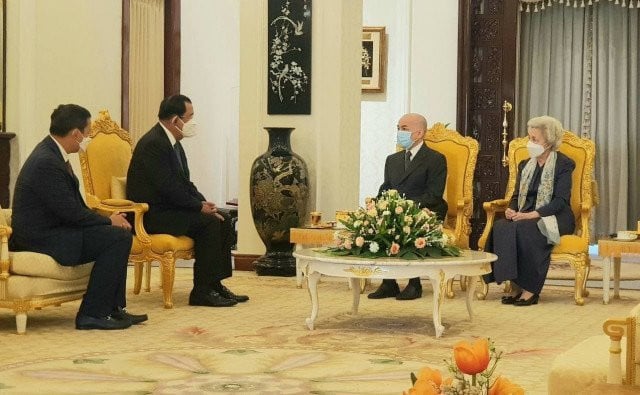 Meeting with King Norodom Sihamoni and Queen Mother Norodom Monineath Sihanouk, Prime Minister Hun Sen confirmed that his eldest son Hun Manet will take over upon his retirement
PHNOM PENH--Following a Jan. 22 meeting between Prime Minister Hun Sen, his eldest son Hun Manet and both King Norodom Sihamoni and Queen Mother Norodom Monineath Sihanouk, Hun Sen confirmed that he informed Cambodian royalty of his plan to hand power over to Manet when he eventually retires.
Speaking at the groundbreaking ceremony of a flyover road in Phnom Penh, Hun Sen said that he has worked as prime minister and as a father to raise his children for leadership and wanted to share these efforts with the King and Queen Mother.
Hun Sen, who is now entering his 37th year in power after refusing to recognize the election results of 1993 overseen by the United Nations Transitional Authority in Cambodia, spoke highly of his eldest son—who is commander of the Royal Cambodian Army (RCA)—and his work during the COVID-19 pandemic.
Following this preamble, Hun Sen said that he then told King Sihamoni and Queen Mother Sihanouk that Manet will succeed him after he resigns from the position of prime minister.
"I tell you the truth, I told the King, in the future I will leave [the prime minister position] and my son will continue," he said, adding that he was providing this information for those seeking to understand his plan.
Hun Sen's decision to reveal this information now comes after much his announcement regarding Manet's potential to lead Cambodia in the future has come under scrutiny from political analysts, with many noting that elections ought to be the determining factor in the country's leadership.
Others pointed out that, as RCA commander and a prime ministerial candidate for the ruling party, it was inappropriate for Manet to be meeting royalty.
But Hun Sen dismissed such criticism, saying it was common for meetings between the King and the head of state, including anyone accompanying the prime minister if approved by King Sihamoni.
"Why was it analyzed? It seems too much? Maybe you have no work to do? That group has had no work," he said in reference to people questioning his ambition to return dynastic rule to Cambodia.
Related Articles