PM Hun Sen Wants Cambodia to Produce COVID-19 Vaccines Domestically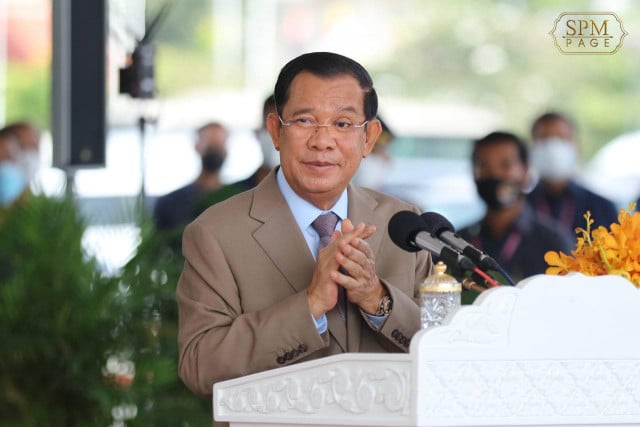 November 17, 2021 2:33 PM
Long-ruling Prime Minister Hun Sen has requested Chinese support to build Cambodia's first vaccine production factory after another 2 million doses of Sinovac arrived from China this morning
PHNOM PENH--Prime Minister Hun Sen has requested Chinese support in building Cambodia's first COVID-19 vaccine production factory.
Overseeing the delivery of another 2 million doses of Sinovac—which were donated by China—on the morning of Nov. 17, Hun Sen said he had submitted the request formally to China's Ambassador to Cambodia Wang Wentian.
"I hope that Ambassador Wang Wentian will inform my request to President Xi Jinping, Prime Minister Li Keqiang and other relevant stakeholders to give Cambodia the opportunity to produce COVID-19 vaccines as quickly as possible," he said.
According to Hun Sen, the vaccine manufacturing capacity would allow Cambodia to produce COVID-19 vaccines for domestic purposes, but could also distribute them to other countries throughout the region. It is unclear if Hun Sen's suggestion involves selling COVID-19 vaccines or how the request will be received in China, but he added that the Ministry of Health has been working closely with the Chinese Embassy in Phnom Penh in relation to this issue.
China's rapid vaccine production has enabled Cambodia to roll out one of the most successful vaccination drives in Southeast Asia and indeed the world. Hun Sen pointed to China's willingness to support Cambodia with vaccine provisions on Feb. 7, long before other international aid arrived, he added.
Cambodia received 1,060,100 doses of the single-shot Johnson & Johnson vaccines from the US via the COVAX facility on July 30 and Aug. 2 this year, while a combined 1,415,000 doses of AstraZeneca were gifted from the UK and Japan in July 2021.
Prior to this, just 347,000 doses of AstraZeneca made it to Cambodia through COVAX in March 2021 before India, where the vaccines were being produced, put a halt to vaccine exports to focus on the Delta variant which was ravaging the country at the time.
More COVAX donations are expected in Cambodia over the course of the year and likely into next year.
As such, Chinese vaccines have become the mainstay of Cambodia's fight against the pandemic and while the Ministry of Health's shift in policy over the official count of COVID-19 cases—only positive PCR tests now count as "official cases—the vaccine rollout has been internationally recognized as a success.
As of Nov. 16, more than 14 million people have been vaccinated across Cambodia—including foreigners living and working in Cambodia—which is roughly 88 percent of the 16 million population as per the 2019 census.
This success is largely down to the 36.8 million doses of COVID-19 vaccines provided by the Chinese government—8.3 million of which were donations, while the other 28.5 million were purchased by the Cambodian government.
"The presence of the COVID-19 vaccine has become an important element in helping Cambodia achieve a faster COVID-19 vaccination plan which has enabled Cambodia to overcome the COVID-19 epidemic, saved Cambodian lives and has allowed us to re-establish social and economic activities in all areas as it is today," he added.
So far, 2,881 deaths have been officially attributed to COVID-19 in Cambodia, but the Ministry of Health's new policy on counting daily COVID-19 cases makes it impossible to know how many active cases remain in the country.
The total official record of COVID-19 cases sits at 119,687 as of Nov. 16, 2021, but this is almost certainly an underestimate.
"China is a true steel friend who always helps and supports Cambodia in difficult times with timely and without condition," Hun Sen said.
Related Articles