PM Hun Sen Warns Against Demonstrating on Paris Peace Agreement Anniversary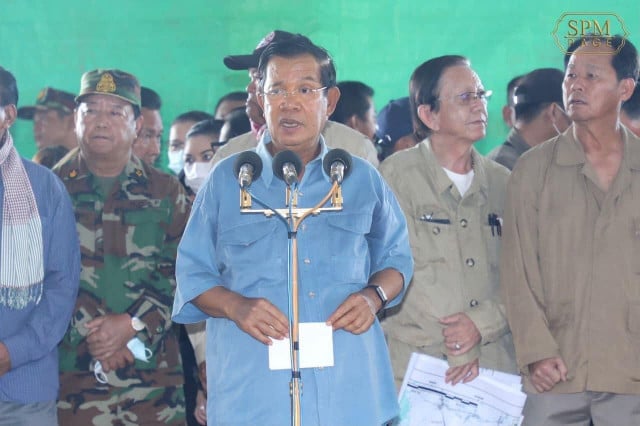 Phoung Vantha
October 21, 2020 10:07 AM
As civil society groups and activists plan to demonstrate in Freedom Park to demand the proper implementation of the Paris Peace Agreement, Hun Sen says he knows who these people are and will respond.
PHNOM PENH--Prime Minister Hun Sen on Oct. 21 issued a warning to people planning a demonstration on Oct. 23 in commemoration of the 1991 Paris Peace Agreement. Numerous civil society groups have announced they will hold a peaceful gathering in Freedom Park where they will demand that the government abide by the 1991 agreement.
Speaking while visiting the flood victims of Banteay Meanchey Province, Hun Sen said the government has already identified groups who are planning to protest on the 29th anniversary of the Paris Peace Agreement.
"Your identities are under the control of authorities," he said, adding that the country is already suffering from flooding and the COVID-19 pandemic so protests would only exacerbate the situation.
Hun Sen went on to say that he will not allow anyone to cause unrest or disrupt public order and reiterated his role in the signing of the Paris Peace Agreement before going on to claim that protesters are likely unaware of his involvement. He again warned people not to travel from the provinces to Phnom Penh to take part in any demonstrations.
On Oct. 19 opposition leader Sam Rainsy, who is living exile in France, called on the Cambodian people to stand up and protest against the government for improperly implementing the Paris Agreement.
"On October 23, 2020, the 29th anniversary of the Paris Agreement, Cambodians around the world will hold a demonstration against the Chinese military presence in Cambodia," he said.
Meanwhile Hun Sen said he is aware of the protest plans as he has access to internal meetings between opposition members both in and outside the country. Hun Sen has previously said his government reserves the right to listen in on citizens' phone calls and this year has seen a number of opposition party figures arrested, harassed and assaulted for their activities on and offline.
Both Kong Bunheang and Hang Seng, 66 and 69 respectively, were imprisoned at Prey Sar Prison on Oct. 20 after the two former opposition officials were accused of insulting the King.
The Phnom Penh Municipal Court on Oct. 20 issued summons for Rainsy and eight other leaders of the Cambodia National Rescue Party (CNRP) to appear in court on Nov. 11, 2020. The leaders of the now-dissolved opposition party stand accused of plotting to overthrow Hun Sen's government.
In response, the CNRP issued a statement on Oct. 21 announcing that the nine leaders would appear for questioning on Nov. 11 if Hun Sen met their four demands—namely, the CNRP demanded that their leaders be able to enter Cambodia.
"Airline companies should not be prevented by the Hun Sen regime from letting us on board a plane," the statement read, adding that the revoked passports of the leaders should be returned.
The statement also called upon ASEAN leaders, in particular the Thai government, to remove the leaders' names from blacklists and allow them to make connecting flights or land crossings in order to attend the questioning. It also demanded that people be allowed to freely await the return of the CNRP leaders without fear of arrest or detention.
This follows Rainsy's 2019 attempt to return to Cambodia that failed due to various airlines refusing to take the exiled opposition leader and Hun Sen's request to neighboring countries to block his entry. Some 70 CNRP supporters were jailed and then later released in the furor surrounding Rainsy's attempted return.
"It's not up to us, but it's up to Hun Sen to address our preliminary conditions," said former opposition deputy leader Mu Sochua when asked if she thought the CNRP leadership would actually be allowed to return.
"I faced the court once, I will do it again, but the question is: will Hun Sen really want all of us to return and go to jail?" she added, noting that in doing so Hun Sen may risk public outrage.
Sochua reiterated that the group currently have no Cambodian passports and, as Cambodian citizens being summonsed to face a Cambodian court, they should at least be given their proper documentation.
Related Articles