PM Opens ASEAN Summit With Vision of Opportunities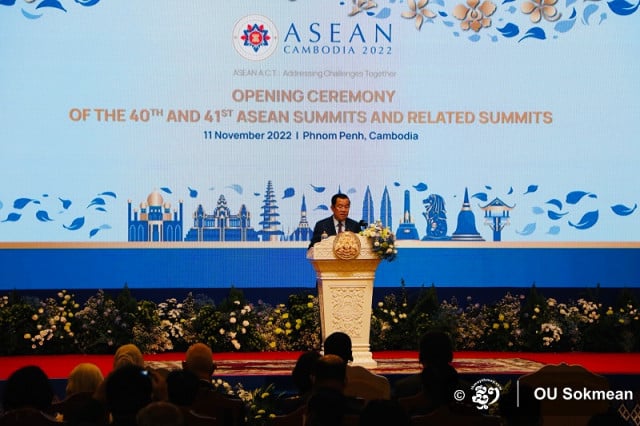 November 11, 2022 11:07 AM
PHNOM PENH – Prime Minister Hun Sen has formally opened the ASEAN summit in Phnom Penh, speaking of new policy guides to forge an inclusive, resilient and rules-based community.
He said these affirmed the bloc's resolve to create a community that abounds with opportunities where all people enjoy seamless connectivity, equitable economic development, healthy environment and equal social protection.
The 40th and 41st ASEAN Summits and Related Summits started officially on Nov. 11 and included leaders of ASEAN member states and dialogue partners.
Hun Sen said ASEAN was central to the evolving regional architecture, forging external partnerships based on mutual trust and respect for regional and global peace, security and sustainable growth.
"Maintaining our unity, solidarity and centrality is of utmost priority in order for our region to sustain and be resilient for what is to come."
Issues expected to be discussed include the Ukraine-Russia war and the South China Sea. The crisis in Myanmar has also loomed large and leaders were due to discuss it on Nov. 11.
Kyoto News reported an ASEAN diplomat saying privately that ASEAN might discuss expelling Myanmar or suspending its membership.
Kyoto News also reported that it had seen a draft statement in which ASEAN leaders expressed concern at the long-running crisis and the hanging of opposition activists.
Myanmar's coup leaders are barred from ASEAN meetings, however human rights group Fortify Rights said on Nov. 10 it had a leaked copy of an 11-point draft plan to be put to ASEAN leaders which would normalise contacts with lower-level Myanmar officials.
Kung Phoak, Secretary of State at the Ministry of Foreign Affairs, warned on Nov. 10 that resolving the Myanmar crisis will be a long process for ASEAN. He spoke after ASEAN foreign ministers met in Phnom Penh.
"The Myanmar crisis is a complicated, difficult problem that needs time to resolve," he said.
"We want the conflict to end positively as soon as possible. However, because of the complexity, ASEAN has to take a long time looking at the problem."
Phoak did not refer to the leaked documents by name but said there were draft documents he had not seen which were related to the ASEAN discussion and negotiating progress.
"Any new or additional ideas were always included in the documents," he said.
Other topics for the summit include cybersecurity, the roles of women in peace and security and their integral role in building and maintaining peace.
Related Articles