PM Orders Cash Relief for Suspended Factory Workers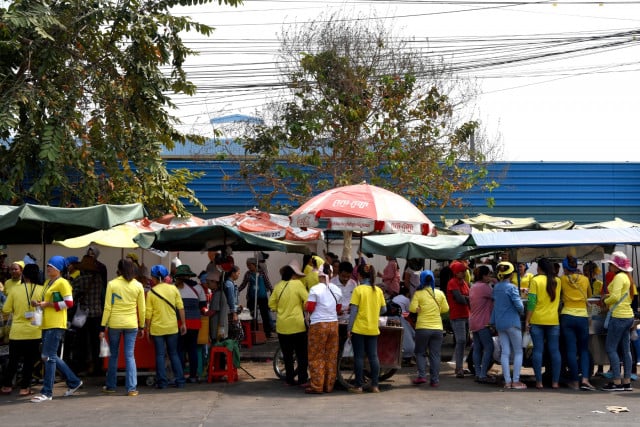 PHNOM PENH – Prime Minister Hun Sen ordered on Mar. 6 to set up a new cash relief scheme to help garment workers whose jobs were suspended due to the closure of factories. He stated that financial assistance would start in early April.
PM Hun Sen said in a graduation ceremony that the global economic crisis caused by the pandemic and the war in Ukraine continues to hit Western economies, particularly the U.S. and Europe which are Cambodia's primary markets for exports.
Because of the economic slowdowns and the fall in consumption, orders from these countries are declining, causing Cambodian factories to close and suspend workers.
According to data from the Ministry of Labour and Vocational Training, a total of 132 factories closed in 2022, leaving 52,000 workers unemployed. It follows the closure of 164 factories in 2021, which caused the laying off of 73,000 workers.
During his speech, Hun Sen said that a union leader informed him of an increasing number of factories continuing to shut down, causing more workers to ask for financial support.
The Premier ordered Labor Minister Ith Sam Heng to meet with factory owners to find a financial compromise for the suspended workers. He also asked Minister of Economy and Finance Aun Porn Moniroth to release cash.
According to the PM, the amount of cash assistance should be the same as that of the COVID-19 scheme, where suspended workers got granted $70 per month. The government provided $40 of it, while the factory owner brought $30 for each suspended worker.
The measure will take effect in early April.
"It's not as [many workers] as during the COVID-19 period," he said, asking for swift intervention.
The suspended worker will join other vulnerable groups who received cash assistance from the government including poor families holding an ID poor card, those affected by COVID-19, flood-hit families, and inflation-affected ones.
Hun Sen added that the government has spent about $1,2 billion on these several financial support schemes since the beginning of the pandemic in 2020.
Originally written in Khmer for ThmeyThmey, this story was translated by Torn Chanritheara for Cambodianess.
Related Articles