PM Orders Local Blitz on Illegal Gambling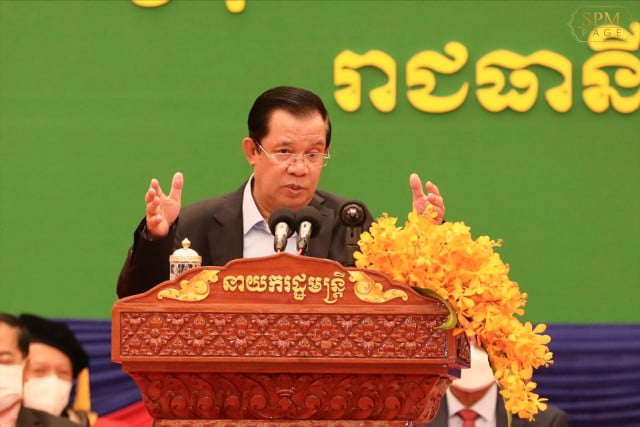 September 19, 2022 5:45 PM
PHNOM PENH – The government has ordered sub-national authorities to stamp out illegal gambling at the local level. However, social monitors said the action would be temporary.
"The working group of the national level cannot travel to every place," Prime Minister Hun Sen said on Sept. 17. "The national level has to depend entirely on the sub-national level on this issue."
The Prime minister said any local official who was unwilling to take action on illegal gambling would be removed. After the warning, local officials formed a working group and started to crack down on the activity.
"I will not hesitate to take away the position from the provincial or capital governor, district, commune, or city governor or any level of police officers who are found out to not be responsible over their duty," the PM said.
He urged businesses carrying out unlawful activities disguised as shops selling coffee or noodle soup to stop illegal gambling.
Domestic violence, theft and debt were some of the results of illegal gambling.
Soeng Senkaruna, senior investigator at rights group Adhoc, said there were laws on illegal gambling but implementing them was the issue.
"Those gambling businesses were given certificates for operation and they are also backed by wealthy and powerful people, with a possible link to corruption. So, we can hardly blame those who implement the laws."
This new intervention would only work briefly before it blew over. Action known as "iron-fist" operations on justice issues or deforestation were only implemented once in a while.
Deforestation still exists and the judicial system is still criticized by the national and international community.
"If we always wait for the command to be made, even though the laws are there, issues in society will never go away," he said.
Yong Kim Eng, president of the People Center for Development and Peace, said that a crackdown on illegal gambling was not enough as legal gambling remained in the community.
He called on the government to review and revoke the licences as some gambling places got their license from the national level.
The government also had to check the effectiveness of the law enforcement authorities who had to put monitoring and checking measures in place and not just wait for orders.
On Sept. 16, the government also set up a 12-member task force to crack down on illegal gambling across the country.
Related Articles