PM Praises China's 10 Years BRI Achievements, Asks for More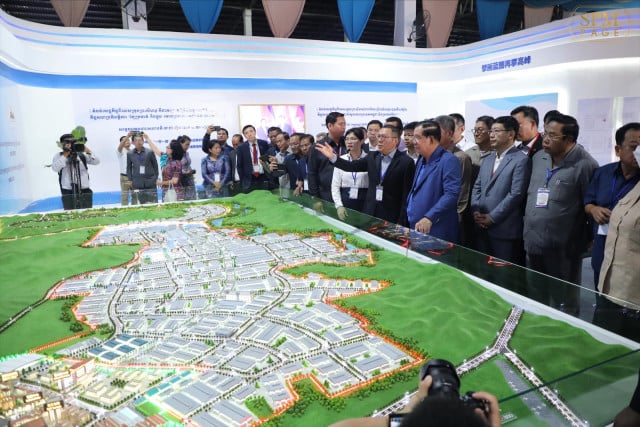 PHNOM PENH – Prime Minister Hun Sen pays gratitude to the China-led infrastructures developed under the Belt and Road Initiative (BRI) as the project was first launched 10 years ago while asking for raw materials processing plants and high-tech investments from China.
"Cambodia is a member, among 150 countries, of BRI because it is in line with the Cambodian policy to serve development and peace," he said on May 22 at the inauguration of a tire factory in Sihanoukville.
Cambodia embraced the Chinese Belt and Road Initiative – a $4 trillion investment in building supply chains around the world using ports, roads, and trains as well as related operating systems and infrastructure – in 2013.
The Premier pointed out that BRI-labelled infrastructure in Cambodia has contributed to successfully organizing the 32nd Southeast Asian Games which Cambodia hosted for the first time in six decades.
"I said it again and again during the closing and opening ceremonies of the event that I thank China and the Chinese people, especially President Xi Jinping, that helped us build the [Morodok Techo] stadium," he said, adding that the venue can be used for various purposes for more the coming hundred years.
The 60,000-seat stadium was built thanks to a $160 million Chinese grant.
Hun Sen affirmed that Cambodia embraces projects that match his position of seeking development without causing damage to peace.
"First, if you want me to support you, the objectives of the project must serve the development and peace," he said. "Second, they must not go against any other countries. The third is to respect the centrality of ASEAN. These are the core principles of Cambodia's foreign policy."
BRI has also helped to develop other infrastructures in the country, such as the Phnom Penh – Sihanoukville Expressway, the Siem Reap – Angkor International Airport, which is set to open in October 2023, and the 2,715 kilometers submarine fiber-optic cable project from Hong Kong to Sihanoukville that is scheduled to be completed in 2024.
He also mentioned the grants that Cambodia has enjoyed for developing roads and bridges across the Mekong River, Bassac River, Sekong River, and Tonle Sap River.
"So, I take this opportunity to congratulate the 10 years of the Belt and Road Initiatives of China," said Hun Sen.
Cambodia also has projects to accelerate the welfare of the people, such as developing irrigation systems or grids, improving education and setting working programs to reduce poverty, he said without further elaborating.
"I have seen that China's policy is not to declare enmity with any country, even if others find ways to prevent and oppose China," he said. "China has never set up a policy against or hostile to any country."
China has a role to play in ASEAN as it is also a member of RCEP which is a free trade agreement among the Asia-Pacific nations, the head of government said.
He also invited China to invest in new factories in Cambodia, especially in the processing of raw materials – rubber, cashews, rice, etc. – or in high-tech industries.
He also eyes the fourth economic pole that covers Banteay Meanchey, Battambang, Pursat, and Pailin provinces for the fish-rice corridor.
"If I don't rely on China, to whom can I go?" said the premier. "If you don't believe in me, I don't believe in you too."
Related Articles