PM Salutes Kem Sokha Condolences Gesture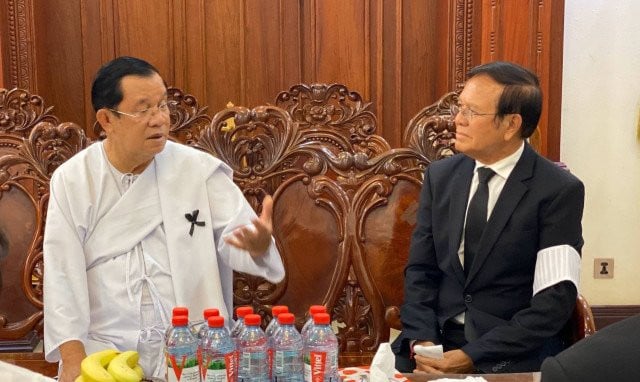 Sam Rainsy missed a chance, Hun Sen says
PHNOM PENH – Prime Minister Hun Sen says he admired Kem Sokha but mocked Sam Rainsy as narrow-minded and for losing the chance to return to Cambodia.
The PM said Kem Sokha was a clever and compassionate politician because when Hun Sen was mourning his brother, only Kem Sokha sent a condolence letter and visited while Sam Rainsy did not.
Hun Sen made the remarks while meeting the Cambodian communities in the US and Canada on May 11.
"When I was downhearted, it was a political opportunity for politicians," he said.
Out of hatred, Sam Rainsy had not cared when the PM's brother died. If Rainsy had sent a message of condolence the PM might have accepted it and responded.
This would be a good sign that Rainsy might be able to re-enter the country.
"He did not know how to manage opportunities. Just be humble by writing a little condolence letter and push me into a hard situation whether I received the letter or not," Hun Sen said.
"Thank you for being ignorant without grabbing your political opportunities because you hate me, as while the athletes win, you do not celebrate.
"My mother and brother died and you didn't send a condolence message. I thank you very much, so all the results are enough for you to accept," he said.
The head of government spoke of Kem Sokha's action.
"I respected Sokha for what he did. He sent me a message on Whatsapp and he asked if he could come and to show his respects. I responded by inviting him to come and we talked for four hours," he said.
"Although we are different politicians, we are Khmer."
Hun Sen's remarks were accompanied by loud shouts and applause in the meeting hall.
Related Articles