PM Tells Bodyguard Unit to Help Longan Farmers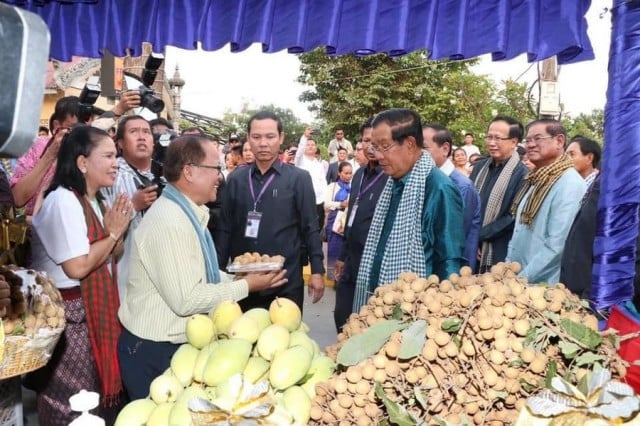 Thai border closure blocks fruit exports

PHNOM PENH--Prime Minister Hun Sen has ordered General Hing Bun Hieng, deputy director of his cabinet and the commander of his bodyguard, to procure Pailin longan from farmers in the provinces bordering Cambodia and Thailand.
His order came after farmers near the Thai border were unable to export at least 50,000 tonnes of longan because the border was closed due to the COVID-19 pandemic.
National Television of Cambodia (TVK) reported that after receiving the Prime Minister's order Hing Bun Hieng's team said it would start buying longan from August 18 at Battambang Provincial Hall.
Agronomist Yang Saing Koma called on the government on August 16 to buy the longans from the communities.
On August 12, the Agriculture Ministry called on longan farmers to export their crops to Vietnam and urged people in the country to buy the fruit.
Saing Koma said that the ministry's call was just a short-term solution. He urged the government to spend money to buy logan from farmers, as well as subsidizing farmers and delaying farmers' repayments to banks so that farmers can continue to grow crops for the long term to bring longan to the Chinese market.
The communities and Saing Koma urged the ministry to speed up the process of obtaining an official agreement so that Cambodian producers can directly export longan to China without going through Thailand.

Additional reporting by Phoung Vantha
Related Articles