PM Tells of Listening in on Exiled CNRP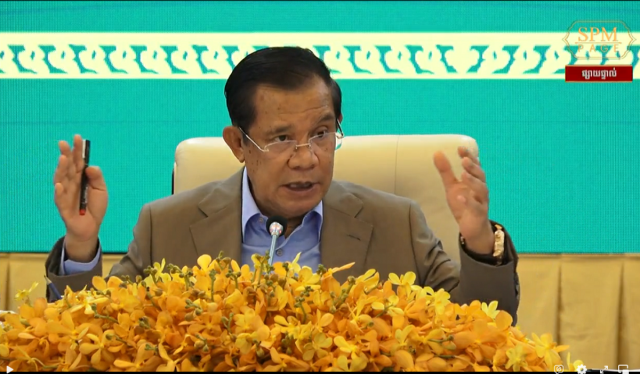 My people are everywhere, Hun Sen says
PHNOM PENH--Prime Minister Hun Sen has warned the former Cambodia National Rescue Party (CNRP), which is now operating outside Cambodia, not to do anything that could harm the national interest.
He says he knows all the internal affairs of the opposition group and his people are among them.
Hun Sen said videos of internal meetings of the party on digital platforms are sent to him right after their meeting ends.
"I did not hack in, but my people are everywhere," Hun Sen said during a press conference about the vaccination campaign for children aged under 12, which was launched on September 17.
He said that he has listened to many internal meetings of the former opposition group, including meetings with European and other foreign delegations. About 50 video clips of the opposition group's meetings are in his hands, Hun Sen said.
"This is not a privacy matter but a matter of our nation," he said, adding that he could attend the meetings because people in the opposition group had given him the passwords.
On September 16, Hun Sen wrote on his official Facebook page that his talking to former CNRP official Long Ry in an internal meeting with the opposition working group through Zoom was not a positive sign to opening the gate for political negotiations.
Instead, he said he wanted to send a message to the opposition group that Hun Sen's people were everywhere.
There was no political issue to be resolved through negotiations. What needed to be done was for those convicted to reach two-thirds of their sentences before considering pardons or commutations.
Hun Sen reminded Long Ry that he had twice favored and asked the King to pardon Sam Rainsy, an exiled leader of the former CNRP after Rainsy wrote a letter of apology to him. Hun Sen also raised his political coordination efforts to establish a "culture of political dialogue" in September 2014.
However, Sam Rainsy later mocked Hun Sen's explanation, saying Hun Sen only wanted to portray himself as a good person, especially to mention his good deeds.
Regarding the culture of dialogue, Sam Rainsy replied that he found it difficult to work with Hun Sen. Rainsy said Hun Sen only accepted opinions that aligned with his own.
In the upcoming Commune Election in 2022 and National Election in 2023, Hun Sen said on his Facebook Page that it was all right that the CNRP was not taking part because many political parties will be participating, both old and newly formed ones.
Related Articles