PM's Bodyguard Commander Appointed as Advisor to Supreme Monks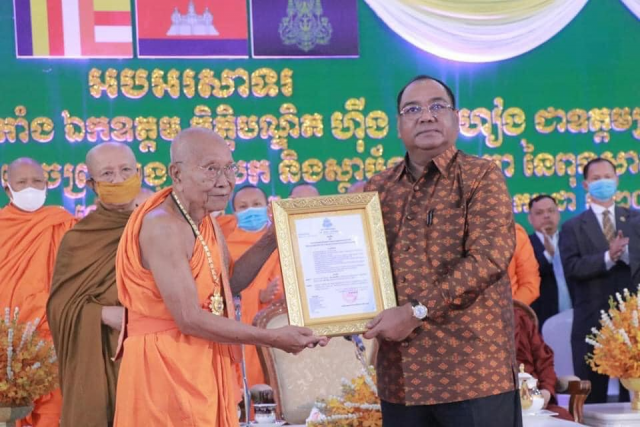 Mao Sopha and Torn Chanritheara
July 20, 2020 11:18 AM
The new appointment comes after Hing Bun Heang was sanctioned by the United States' government over alleged roles in numerous human rights abuses.
PHNOM PENH--General Hing Bun Heang, the commander of Prime Minister Hun Sen's Bodyguard, has been appointed supreme advisor to four top-ranked monks, according to a sub-decree. Bun Heang's investiture ceremony was held on July 18 at Bodyguard Command Headquarters.
According to the sub-decree, Bun Heang, who also serves as Deputy Commander-in-Chief of Royal Cambodian Armed Forces, was appointed as supreme advisor to Cambodia's Great Supreme Patriach Tep Vong and Supreme Patriarch of Dhammayuttikanikaya sect, Bour Kry.
Moreover, he was also appointed supreme advisor to two other top monks: Venerable Non Nget, Supreme Patriarch of Mahanikaya sect and Venerable Om Lim Heng, chief of disciplinary body of Cambodian Buddhism.
Venerable Khim Sorn, chief of the secretariat of Mahanikaya sect said in phone interview on July 20 that appointment of Gen Bun Heang was due to his continued support for Buddhism such as the construction of pagodas and Buddhist schools.
"In addition, Bun Heang is a devotee of Buddhism and in the past, he also offered advice to monks," Venerable Sorn said, adding that Bun Heang has lived and studied in a pagoda despite having not entered the monkhood.
However, the appointment of Bun Heang appears to overlook the alleged role that the general has played in a range of human rights abuses—abuses that saw him sanctioned by the United States Treasury in June 2018.
"These actions are part of our continuing campaign to hold accountable government officials and other actors involved in human rights abuse and corrupt activities…General Bun Hieng commanded a Cambodian unit that engaged in a series of human rights abuses, and was personally implicated in attacks against a number of individuals, including a US citizen," said Sigal Mandelker, Under Secretary of the Treasury for Terrorism and Financial Intelligence, in a statement on June 12, 2018.
Bun Heang was sanctioned under the Global Magnitsky Act, meaning that any assets he held in the US were frozen, he is banned from traveling to the US and American entities are banned from going into business with Bun Heang. Oknha Try Pheap and General Kun Kim are the only other Cambodians to have been hit with Magnitsky sanctions.
During his time as commander of the Prime Minister Bodyguard Unit (PMBU), Bun Heang has been implicated in a string of attacks dating as far back as 1997, where four grenades were thrown into a gathering held by opposition politicians. At least 16 people were killed and as many as 150 more injured. The park where the attack was carried out was heavily guarded by the PMBU at the time, which led many international observers to suspect Bun Heang was either directly or indirectly complicit in the attack.
More recently, in 2013, the PMBU was also thought to be involved in attacks on opposition lawmakers outside Wat Phnom and then again, in 2015, outside the National Assembly. According to the US Treasury, three members of the PMBU were arrested following the 2015 attack, only to be promoted upon their release.
Now, having been publicly shamed by the US, Bun Heang is also receiving a promotion of sorts, although it remains unclear if he will continue in his role as commander of the PMBU.
Although Buddhism in Cambodia has two divisions, most of the pagodas and monks are from Mahanikaya sect, while only few of them are from minor Dhammayuttikanikaya sect.
According to Ministry of Cults and Religion's report, in 2020 there are around 66,000 monks and 4,700 pagodas from Mahanikaya sect. Dhammayuttikanikaya sect has nearly 5,000 monks and 252 pagodas.
Related Articles