Police Chief Orders Traffic Police to Abide by Law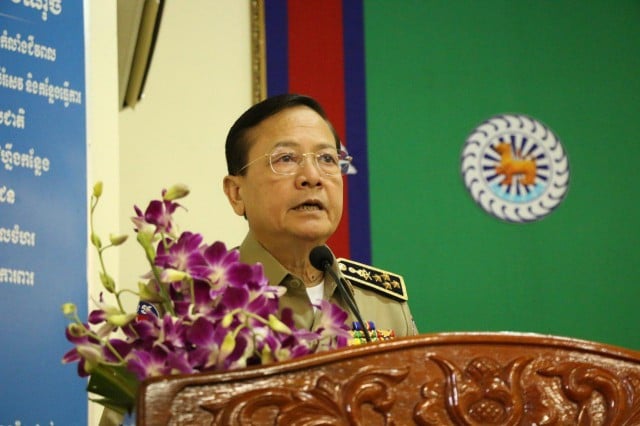 Romdoul Chetra
May 26, 2020 11:46 PM
Following complaints that the traffic laws are not being enforced properly, National Police Chief General Neth Savouen has issued a threat to disobedient officers.
PHNOM PENH--National Police Chief General Neth Savouen has ordered all provincial and municipal police chiefs to enforce the new road traffic laws according to the guidelines. He threatened to punish those who fail to adhere to his orders.
In a voice message, Savoeun ordered all commissioners not to place barricades to intercept a car that was driving normally on the road without any violations of law. He said he was informed that some people and commuters were disappointed that some traffic police deployed barricades to stop car from travelling for strict traffic law enforcement even though the vehicle's owner follow the proper rules.
"[I] speak for the last time, firstly don't put barricades…Secondly, to be clear stop them only when they violate," he stressed.
General Chhay Kim Khoeun, deputy commissioner and spokesman of the National Police, confirmed that Savoeun gave this order. He told Cambodianess on Tuesday (May 26) that the road traffic police were right to erect barricades to inspect the vehicles, because it is their duty to enforce the law.
But Kim Khoeun noted that some officers went beyond the guidelines by stopping all vehicles to ask for documents. This action, the officials said, prompted the police chief to remind them it was unnecessary.
"They [traffic police] used to enforce more than they were told to. From a legal perspective, they are not wrong but they are not following our guidelines," Kim Khoeun said.
The police have identified 16 offenses, seven involving motorbikes and nine involving cars, to prioritize in the nationwide campaign to improve enforcement of road traffic laws. They include driving without a license, driving when drunk, violating traffic lights, driving overweight vehicles and turning without signaling, as well as cracking down on drivers and passengers who don't wear their seatbelts.
Hence, police cannot stop vehicles to ask for documentation if there is no violation among these 16 offenses, Kim Khoeun said.
In his order, Saveoun warned that in case any officers continue to breach the code of ethics while on duty, they will face punishment according to existing rules and laws.
Since May 1, the authorities have been enforcing stricter traffic regulations that include higher fines for violations in a bid to decrease the number of road accidents, which have claimed many lives in recent years.
In the 23 days since the new regulations came into force, authorities have fined 34,833 drivers for traffic law violations.


Related Articles