Police Smash Large-Scale Drug Operations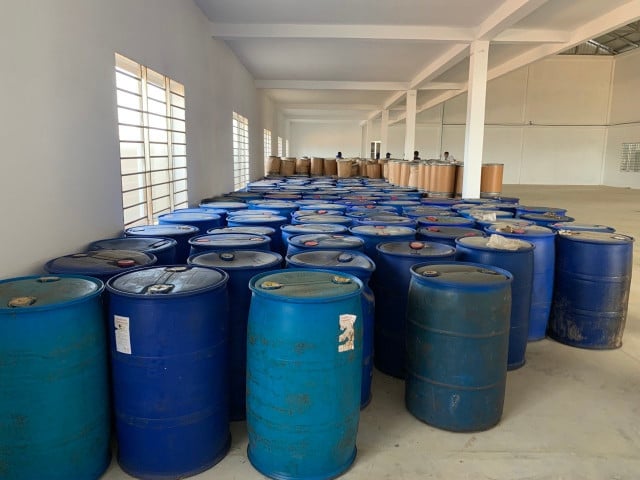 PHNOM PENH – Police have cracked down on large-scale drug trafficking in four provinces, with 11 Chinese suspects arrested and 1.8 tonnes of drugs seized.
A further 276 tonnes of drug precursor chemicals were confiscated.
Four factories were raided in Phnom Penh, Svay Rieng, Prey Veng, and Kandal province, according to the Anti-Drug Department of National Police.
Police found 12 locations, including seven in Phnom Penh, two in Svay Rieng, one in Prey Veng, and two in Kandal. One location is a drug processing site in Svay Rieng and seven were drug storage facilities.
The department said the operation was carried out from July 4 to 9, under the direct leadership of Lek Vannak, director of the Department of Anti-Drug Crimes, National Police Chief Neth Savoeun, and Deputy National Police Chief Mak Chito.
"The suspects are being sent to the Phnom Penh Municipal Court according to the procedure," it said.
On June 29, police arrested seven Chinese nationals in Preah Sihanouk in connection with drug production and processing. Fourteen tonnes of precursor chemicals, as well as 160 kilos of drugs and equipment, were seized.
During the first three months of 2022, police cracked down on three tonnes of drugs and 300 tonnes of precursor chemicals.
In 2021, 6,308 drug-related offenses were handled by Cambodian authorities and 13,979 suspects were arrested, while more than four tonnes of drugs and chemicals to produce nearly 100 tonnes more were seized.
Cambodia's government is also collaborating with the International Criminal Police Organization (Interpol) to identify masterminds who import chemicals to be processed into drugs.
Cambodia is the world's second-largest source of heroin and a major hub for the manufacture and trade of amphetamine-type stimulants. Cambodia has evolved into a major drug-trafficking transit country. According to the United Nations Office on Drugs and Crime, the use of illegal drugs, particularly amphetamine-type stimulants, has skyrocketed.
Related Articles