Pope hails 'beloved' Benedict as Vatican releases photos of body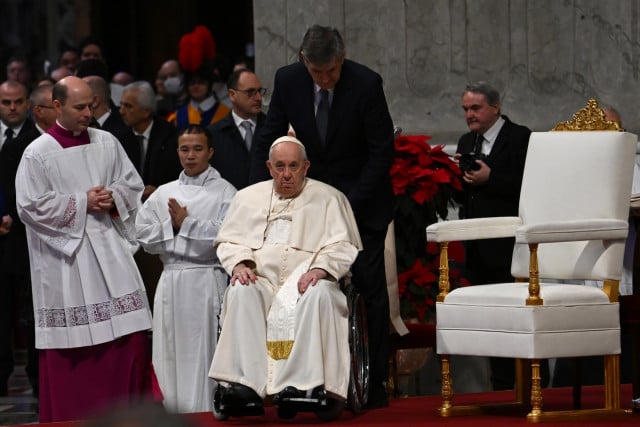 Pope Francis hailed the "beloved" Benedict XVI in New Year's Day services on Sunday as the Vatican released the first pictures of the former pontiff following his death at the age of 95.
Official photos showed the German theologian's body on a catafalque in the chapel of the monastery in the Vatican grounds where he spent the last decade of his life.
As previous popes, he is dressed in red vestments with a gold-edged mitre on his head, his clasped hands holding a rosary, while behind him is a crucifix, a Christmas tree, candles and a nativity scene.
But he is not wearing the pallium, a vestment reserved for sitting popes.
Benedict, a conservative intellectual who in 2013 became the first pontiff in six centuries to resign, died on Saturday after years of declining health.
His body will be moved on Monday morning to St Peter's Basilica, where for three days the public will be able to pay their respects before a funeral on Thursday overseen by Pope Francis.
Francis, 86, paid tribute to his predecessor at a New Year's Eve service on Saturday and again on Sunday.
"Today we entrust the beloved pope emeritus Benedict XVI to the most holy mother (the Virgin Mary), to accompany him in his passage from this world to God," he said at a mass for peace at St Peter's Basilica.
Later, delivering his Sunday Angelus prayer in front of thousands gathered in St Peter's Square, the pope bowed his head in a moment of silence in memory of the late pontiff.
"Let us all join together, with one heart and one soul, in thanking God for the gift of this faithful servant of the Gospel and of the Church," he said.
- 'Simple, humble man' -
Benedict's funeral will be "solemn but simple", the Vatican has said, after which he will be buried in the papal tombs under St Peter's Basilica.
The last papal funeral, of John Paul II in 2005, drew a million faithful and heads of state from around the world, although Benedict was a more divisive figure.
A brilliant theologian, he alienated many Catholics with his staunch defence of traditional values and as pope struggled to impose his authority on the church as it battled a string of crises, including over clerical sex abuse.
Most of those gathered at the Vatican on Sunday were on long-planned holidays, but many nevertheless welcomed the opportunity to pay tribute to Benedict.
Paola Filippa, a 58-year-old Italian teacher visiting Rome for Christmas, praised "a simple, humble and great man. Great in faith, life, simplicity and love".
- Two men in white -
Tributes to the ex-pontiff have poured in from around the world, from Catholic US President Joe Biden, who praised Benedict's "devotion to the Church", to Russian President Vladimir Putin, who hailed him as a "defender of traditional Christian values".
His death brought to an end an unprecedented situation in which two "men in white" -- Benedict and Francis -- had co-existed within the walls of the tiny city-state.
Benedict had almost entirely withdrawn from public view, although his occasional public statements were closely followed by Catholic conservatives who dislike the more liberal approach of Francis.
Francis has raised the prospect that he might follow Benedict's example and step down if he became unable to carry out his duties.
In July, suffering knee problems that have forced him to rely on a wheelchair, he admitted he needed to slow down or think about stepping aside.
And earlier in December, the Argentine revealed he had signed a resignation letter when he took office should poor health prevent him from carrying out his duties.
- God's Rottweiler -
Born on April 16, 1927, in Marktl am Inn, in Bavaria, Benedict was 78 when he became the first German pope of the modern era -- an election he later said felt "like the guillotine".
Unlike his successor, a Jesuit who delights in being among his flock, Benedict was more at home with his books, a cat-lover who delighted in study and playing the piano.
He was dubbed "God's Rottweiler" in a previous post as chief doctrinal enforcer, and fiercely defended traditional Catholic teaching on abortion, euthanasia and gay marriage.
But as pope he struggled to contain numerous scandals in the church.
Benedict was the first pope to meet with victims of clerical child sex abuse, but critics said he did not go far enough in addressing the problem and decades of cover-ups.
bur-ar/rox
© Agence France-Presse
Related Articles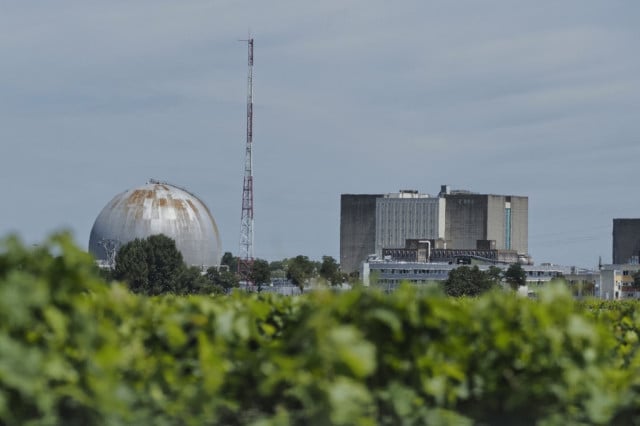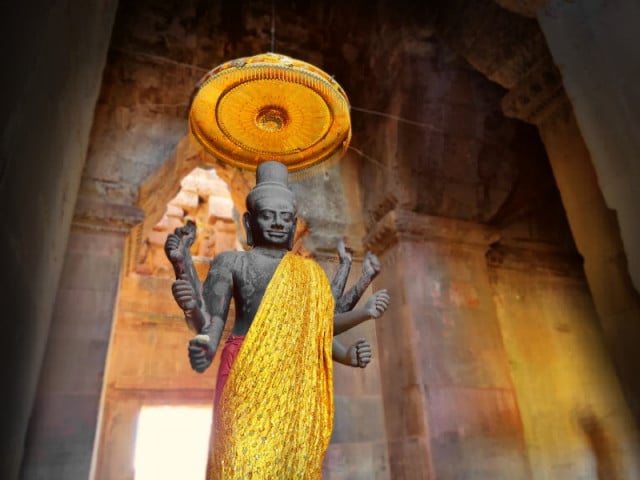 December 30, 2021 12:02 PM