Prak Sokhonn to meet EU high representative in Madrid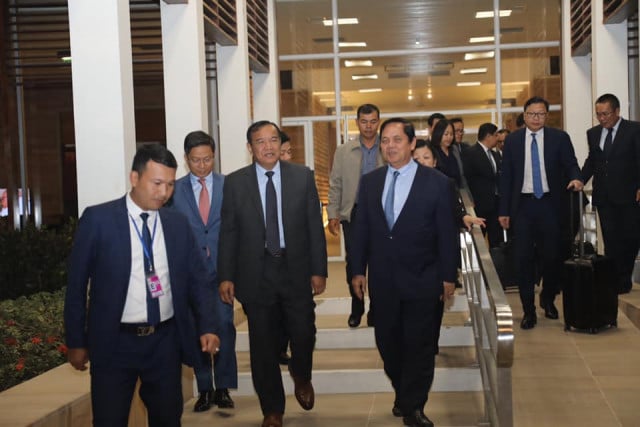 Thmey Thmey
December 15, 2019 3:32 AM
Foreign minister's meeting with Josep Borrell follows government's final response to EU threat to withdraw trade preferences for Cambodia

PHNOM PENH - Foreign Minister Prak Sokhonn was scheduled to meet EU High Representative Josep Borrell in Madrid on Sunday, a day before meeting of Asian and European foreign ministers.
The Ministry of Foreign Affairs and International Cooperation said earlier that Prak Sokhonn left for the Spanish capital on Friday evening.
'Final response'
His departure came a day after the ministry handed over to EU Ambassador Carmen Moreno the government's final response to a European Commission report on findings and conclusions for withdrawing tariff preferences for Cambodia under the Everything But Arms (EBA) arrangement.
The response addresses "all" of the commissions's areas of concern, especially "the right to political participation, land rights, freedom of expression and freedom of association," the ministry said.
Cambodia expects the commission to consider the government's "good faith" and the impact of EBA withdrawal on one million female workers and their families.
The government also expects the commission to respect the principles of sovereignty and non-interference in Cambodia's internal affairs, the ministry said.
'Necessity to uphold multilateralism'
Borrell is to chair Monday's gathering of ministers under the Asia-Europe Meeting (ASEM) mechanism comprising 51 countries, the EU and the ASEAN Secretariat.
In a statement Friday, the EU said the meeting was an "opportunity to strengthen cooperation between Europe and Asia at a time of increasing global challenges and societal changes.
"High Representative Borrell will lead discussions on many of the most pertinent issues of the day, including the situations on the Korean peninsula and in Rakhine State, the Middle East Peace Process, Iran and the Wider Middle East, and efforts to bring peace to Afghanistan.
"Participants will also address the necessity to uphold multilateralism, address common security challenges, promote gender equality and women empowerment, and to enhance connectivity between Europe and Asia in a sustainable way," the statement said.
Minister to make 'substantive' remarks on gender equality
The Cambodian foreign ministry said earlier that Prak Sokhonn would deliver "substantive" remarks on gender issues to the ministerial meeting on Monday.
His remarks will focus on "gender equality and the role of women in peace and security, particularly in the United Nations Peacekeeping Operations," it said.
Prak Sokhonn will also address counter-terrorism issues, the ministry said.
In addition to meeting Prak Sokhonn on Sunday, Borrell was scheduled to meet Chinese Foreign Minister Wang Yi and Japanese Foreign Minister Toshimitsu Motegi.
Other meetings are with South Korean Foreign Minister Kang Kyung-Wha, Vietnamese Foreign Minister Phạm Binh Minh and Thai Foreign Minister Don Pramudwinai, the EU statement said.
Prime Minister Hun Sen is scheduled to chair the biennial ASEM summit next year. The summit will be preceded by an Asia-Europe Parliamentary Partnership meeting to be chaired by National Assembly President Heng Samrin.
Related Articles